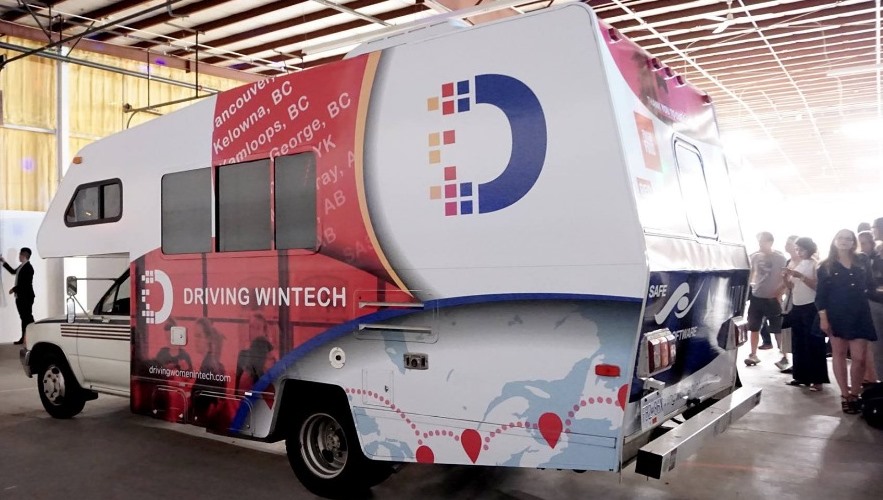 This September, Women in Tech World kicked-off a cross-country fact-finding mission as part of their quest to elevate women in tech.
Driving across the country in a branded RV—lovingly called Chitty Chitty Van Van—the tour started on September 6, 2017, on the west coast in Vancouver, BC, before heading north to the Yukon. The tour is now on its way east, heading across the country towards the Maritime provinces.
At each stop on their tour, Driving WinTech hosts a community conversation with women in tech. These conversations aim to define who are women in tech in Canada? What are their experiences in the tech industry? And what are best practices for inclusion and promotion of women in the tech industry?
Along the way, Driving WinTech will facilitate 50 community conversations, and connect with over 10,000 people from diverse communities and sectors. After hosting these free events and panels that include trailblazing women in tech, the Driving WinTech team will publish a national report on the experiences of women in tech in Canada. They will also create a set of Regional Playbooks to facilitate more inclusive and diverse tech communities. The team will also be sharing their data online and with the World Women Report by the State of Women, which reaches 85 million subscribers.
How to get involved
Attend a community convsersation. Or suggest that they come to your city.
Volunteer with the tour: Driving WinTech is looking for writers, researchers, graphic designers, events specialists, and more.
Sponsor the Driving WinTech tour: thanks to their backers, the tour wrapped up a successful Kickstarter, and is still looking for more funding.
Follow the tour on Facebook, Twitter, LinkedIn, and Instagram, and join the conversation using #DrivingWinTech