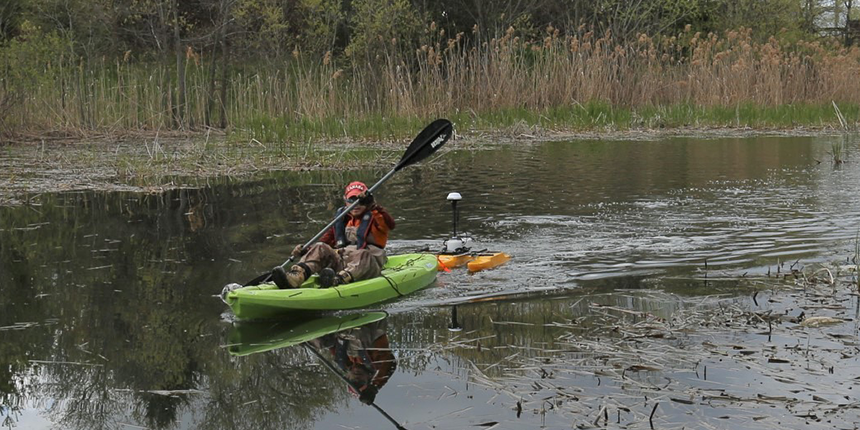 As an environmental engineer, Steve Auger is one of many experts who works at the Lake Simcoe Region Conservation Authority to create innovative methods of stormwater management that promote conservation and resilience. 
"I've always been drawn to water," Steve Auger admits. He's not alone in his fascination. Water is an overwhelming presence in Canada. From the ambling streams and rushing rivers, to the wetlands and the Great Lakes, water is a predominant feature of our landscape and a strong driver of our natural environment. If the natural environment is shaped by environmental cycles, the urban environment is one we build for ourselves, and stormwater management is just one of the many places where the two intersect. 
Water resources engineers like Auger are increasingly considering how to design systems that promote conservation and have low-impact effects while preserving the health and resiliency of both natural and urban environments. This includes incorporating more nature-based solutions within the designs, sourcing materials locally, and transferring knowledge of past successes and lessons learned to practitioners.   
Water in the urban environment 
A simplified definition of stormwater management is that it is the management of water done to control its effects on the urban environment. Auger describes the major functions and methods of low-impact approaches to stormwater management that involve quantity control and quality control: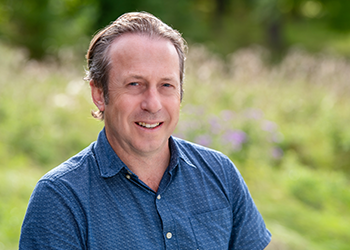 "Reducing stormwater peak flows, providing storage for larger precipitation events to manage flooding, and providing other volume control techniques including infiltration measures — these are all important aspects of quantity control within stormwater management design. And quality control is provided through various features including low-impact development that remove different pollutants, including suspended solids and associated phosphorus, that may build up and then wash off with the stormwater when the precipitation falls on the land. These pollutants can make their way through this transport into our storm sewer systems which lead to the receiving water, including our streams and lakes," Auger explains.  
Low-impact design in this system is meant to mimic the natural water cycle of moving water safely into the ground despite urban barriers like roads and parking lots. This can include features such as green roofs, permeable pavement, rain harvesting, and much more. Stormwater management, thus, involves designing and building these different features that control the volume of water and that can filter and remove pollutants. 
When you consider our everyday use of water, from household use to energy production, to sewer systems, to agriculture, it's easy to see how stormwater management can have a huge impact on daily life. It is also easy to see how innovation that explores various materials and treatment methods, and considers how multiple design solutions interact together within a stormwater management design, can provide immense benefits.  
Lake Simcoe Region Conservation Authority 
Auger works at the Lake Simcoe Region Conservation Authority (the Conservation Authority), and their projects are currently focused on how to improve conservation within this system. Auger explains his role as one that is meant "to support more innovative, holistic, and integrated design with other practitioners, and more at the source stormwater management. Bigger picture designs that look at all of the opportunities and constraints to mimic the natural condition that once existed on the land before development has occurred." 
An example of this work would be The Sustainable Technologies Evaluation Program (STEP), a multi-agency initiative developed in partnership with the Toronto and Region Conservation Authority and the Credit Valley Conservation Authority. 
STEP projects fall into eight categories: urban run-off and green infrastructure, erosion and sediment control, natural features and systems, salt management, renewable energy, heating and cooling, energy conservation, and smart grid. 
"It really is about creating the stage and setting [municipalities] up for success to do the work that we think should be done for resilience and for climate mitigation," Auger explains. He's proud of the Conservation Authority's focus on creating policies, guidelines, and engineering solutions that lead to practical application of conservation and stormwater management knowledge including making low-impact development design approaches common practice.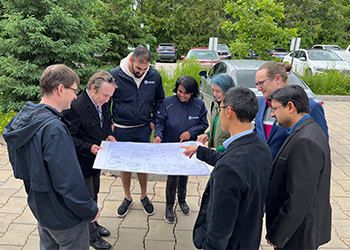 Past projects have included everything from establishing requirements to improve runoff volume control (excess water that can no longer be absorbed by the ground) to municipal demonstration projects that highlight low-impact methods of reducing pollutants and infiltrating stormwater. An applied research study has also explored potential environmental co-benefits of low-impact development including carbon sequestration, stormwater temperature reduction, and improvements to urban biodiversity. 
As can be expected from such large-scale projects, the work done by the Conservation Authority is not a one-person job. "In our integrated team to support better stormwater management practice, we draw from various skill sets through our environmental scientists, biologists, hydrogeologists, planners, landscape architects, climate specialists, geoscientists, communication specialists…" Auger says. 
One of these professionals is Sinem Connor, a senior communications advisor at the Conservation Authority. She reiterates Auger's description of the integrated watershed management team: "The thread that holds the Conservation Authority together is that everything that we do, from engineering to land planning to restoration to education, we do it cross-divisionally," Connor asserts.
Because of this cross-division of labour and interdisciplinary teamwork, when municipalities work with the Conservation Authority, the organization is able to offer a variety of services to support stormwater management inspection and maintenance along with associated monitoring efforts. A full comprehensive program will be run by the organization. A hybrid program targets the municipality's specific gaps for inspection and maintenance assessment needs. For a municipality that only needs a bit of help with auditing their stormwater management program, they will do a simple assessment, write a report, and make recommendations. 
"We're walking the talk," Auger says, "We're not just putting these out there, we're actually practicing and applying them into our local environment, for the health of the watershed." 
Innovation in stormwater management: Addressing climate challenges  
The application of science that provides insight to address the right questions is what Auger feels is most necessary to combat the climate and environmental challenges communities are facing. Most environmental- and climate-based issues are wide-ranging and interconnected, therefore knowing where to focus research and how to apply practical solutions is incredibly important to create the best possible outcomes.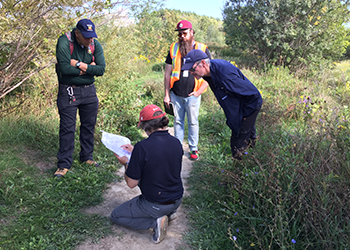 "We achieve answers by addressing strategic questions through our various applied research efforts including field performance monitoring and modelling assessments. These efforts inform continued knowledge transfer, tools development, and practitioner training," says Auger. 
"We keep this momentum going through input from industries including the Conservation Authority's stormwater management technical working group, local conferences including Source to Stream, and design charrettes to evaluate practitioner needs. These initiatives support disseminating applied research results to the broader practitioner community, including but not limited to engineers, all to support better stormwater management planning, design, and implementation."  
One recent example of supporting communities in this way involved determining if an alternative approach to stormwater management would enable municipalities to achieve stormwater quality and quantity control targets, including future climate change scenarios, at a lower cost. Answers from this study demonstrate greater cost-efficiencies were possible through intermunicipal collaboration that would include sharing the operation and maintenance costs of low-impact development in their communities. In this way, knowing where to direct research and how to apply the knowledge results in a stormwater management solution that provides a blueprint for the municipalities to implement and is better for the environment at the same time. 
"These efforts advancing and promoting more innovative and greener stormwater management foster better synergies with our partner municipalities, our funding partners including the Ministry of the Environment, Conservation, and Parks, other Conservation Authorities through STEP. These synergies optimize outcomes, avoid repetition, and promote more consistent and forward-thinking practice throughout Ontario," says Auger. "Through our work, we're dedicated to creating a more livable and sustainable community."