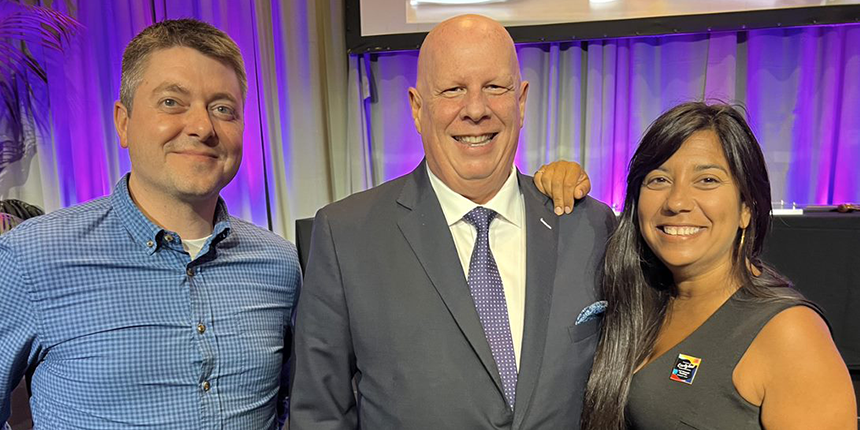 From August 23 to 26, Kathy Baig, President of Engineers Canada and Kyle Smith, Manager of Regulatory Research and International Mobility attended the 101st National Council of Examiners of Engineering and Surveying (NCEES) Annual Meeting. Held in Carlsbad, California, Baig and Smith attended to learn more about the risks and challenges being faced in the United States.   
The NCEES is the national body that sets and conducts examinations that form part of the licensure process for professional engineers and surveyors in the United States. The council is comprised of 69 member professional licensing boards. In addition to holding examinations on behalf of their state licensing bodies, the NCEES supports enforcement, regulatory, outreach and promotion activities.  
Several issues that the NCEES is contending with have parallels to Canada. This includes addressing threats from reform bills that risk weakening the public protections that licensing systems offer, establishing common requirements to streamline state-to-state mobility, offering outreach activities to encourage early completion of exams and to promote licensure, and assessing emerging fields of engineering are all issues relevant to Canadian engineering regulators.  
The relationship between Engineers Canada and NCEES is an important one. Several Canadian regulators make use of the NCEES' Fundamentals of Engineering (FE) exam as part of their assessments processes. This exam is generally the initial step to becoming a professional licensed engineer in the United States (designated as P.E.). It is designed for recent graduates and students who are close to finishing an undergraduate engineering degree from an accredited program. For some Canadian regulators, the exam is used for the assessment of academic qualifications for non-CEAB graduates.  
During the meeting, NCEES members discussed increasing exam fees to cover the cost since transitioning from paper-based exams to an online testing program. If implemented, this would impact Canadian engineering regulators that offer the FE exam as a means for becoming licensed.  
The Canadian and United States economies are very closely entwined, with professionals regularly working across borders. Seven of the Canada's engineering regulators offer the FE exam and the Principles and Practice of Engineering (PE) exams for Canadian engineers looking to be licensed in that country. The PE exam is designed to test for a minimum level of competency in a particular engineering discipline. It is designed for engineers who have gained a minimum of four years of work experience in their chosen engineering discipline.  
Engineers Canada and the NCEES are both members of the International Engineering Alliance and stewards of their respective mobility registers. Maintaining a close working relationship ensures that both organizations can align on international engineering qualifications and professional competence to enable mobility of engineers between countries.  
Canada and the United States face similar challenges and risks when it comes to the engineering profession. Having the ability to share experiences, perspectives, and practices makes both organizations better fulfilling their respective mandates.