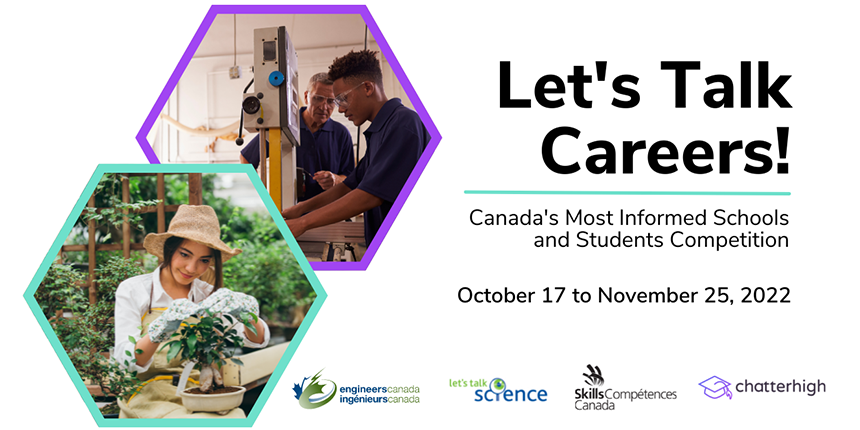 Engineers Canada has partnered with Let's Talk Science, Skills/Compétences Canada, and ChatterHigh to support Let's Talk Careers: Canada's Most Informed School and Students Competition.   
The Let's Talk Careers Competition is an opportunity for youth to explore careers through fun and interactive competition, held twice annually. With over 17,000 participating students at 581 schools nationally in 2021/2022, Let's Talk Careers enables students to learn about career options by researching and answering questions about post-secondary pathways and the labour market to earn points. During the two competition periods last year, students collectively answered over 1 million career questions in 80 days. The first competition of the 2022/2023 school year started on October 17, 2022, and runs through November 25, 2022.  
Engineers Canada has joined the partnership to bring an added focus to engineering. According to a report from Engineers Canada, 59 per cent of students made the decision to pursue engineering in high school.  
"Engineers Canada is excited to be joining the Let's Talk Careers Competition and to bring a specific focus to the 'E' in STEM. With its diversity of thought, people, and disciplines, engineering offers endless opportunities to have a direct impact on the world around you and to contribute to society," said Jeanette Southwood, P.Eng., Vice President, Corporate Affairs and Strategic Partnerships at Engineers Canada. "We're happy that through this competition, more youth can discover where their interests and engineering intersect, and how fulfilling a career in engineering can be."  
"It's critical that youth remain curious and explore their future options. New careers emerge daily, with many requiring STEM skills," said Dr. Bonnie Schmidt, president of Let's Talk Science. "Early awareness of careers prepares students to make informed decisions regarding their future pathways."  
According to the  Government of Canada, approximately 700,000 skilled trade workers are expected to retire by 2028. Meeting those demands will require thousands of youth to be trained in jobs increasingly requiring STEM skills.  
"The Let's Talk Careers Competition is a great way to inform youth about the variety of careers that are available in the skilled trades and technologies. This platform allows us to highlight these rewarding and lucrative careers to tomorrow's skilled workforce", said Shaun Thorson, CEO of Skills/Compétences Canada.  
The ChatterHigh platform offers a unique gamified approach to career exploration. This seek-and-find activity is proven to expand awareness, foster hope and better prepare students for life after high school.   
"When students discover pathways that excite them, and learn what it takes to travel down that path, they begin to foster hope. Hope is a known positive predictor of student engagement and achievement. This competition, and the partnerships with Skills/Compétences Canada, Let's Talk Science, and Engineers Canada, will help students become much more aware of the possibilities that await them for life after high school." Lee Taal, CEO of ChatterHigh.  
With a record $65,000 in prizes available, Let's Talk Careers is an opportunity for students to win while becoming more informed about post-secondary options. Learn more.