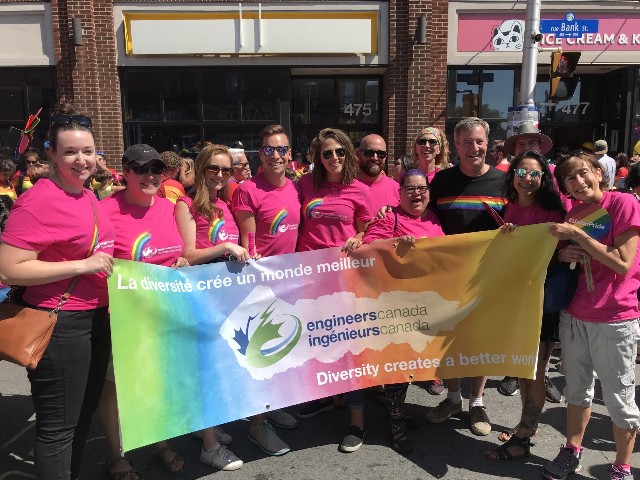 Engineers Canada staff celebrated diversity, equity, and inclusion in our community by joining 190 other associations, community groups, businesses, and political parties walking in the national capital's largest Pride parade to date.
"We marched to celebrate 2SLGBTQ+ identities and to show our support for the rainbow community," said Cassandra Polyzou, Engineers Canada's Manager of Diversity, Equity, and Inclusion, and one of the Engineers Canada staff members who participated in the parade. "Being part of Capital Pride Parade this year was very meaningful for us as part of the work we do to recognize the value of diversity within and outside of the engineering profession."
Engineers Canada staff members were joined by family and friends as they walked in the parade in Ottawa's downtown core. For some, it was their first time at the Pride parade.
"It was my first time participating or attending the parade in any capacity," said Emily McParland, Interim Project and Change Practitioner at Engineers Canada. "It was such a unique experience. People were loving love! I learned a lot and the experience put a lot into perspective. I envy and admire all of the people who participated and were unapologetically themselves. I've never been somewhere with 100,000 other people and experienced literally nothing but love, patience, hugs, and kindness."
Engineers Canada's Office Coordinator, Lisa Dennis, echoed that sentiment, saying that the Pride parade is "like being surrounded by family."
"The highlight was marching side-by-side with my colleagues. It was solidarity at its finest. I tote a lot of charities and causes but this one is nearest and dearest to my heart because it is all about acceptance and love."
Others pointed out that they appreciated the show of support that Engineers Canada showed for diversity, equity, and inclusion by participating in the parade.
"I'm thankful to be a part of an organization that promotes, celebrates, and supports diversity and inclusivity not just at work, but in the community as well," said Joey Taylor, Manager, Public Affairs.
Engineers Canada's Translator-Reviewer, Marie Claverie, agreed. "I really enjoyed the experience of being part of this fun, festive, and important event for a better understanding of diversity. I noticed a large number of organizations at the parade, which proves that they, like Engineers Canada, are committed to an inclusive and diverse society and that they have policies and practices in place that reflect this commitment."