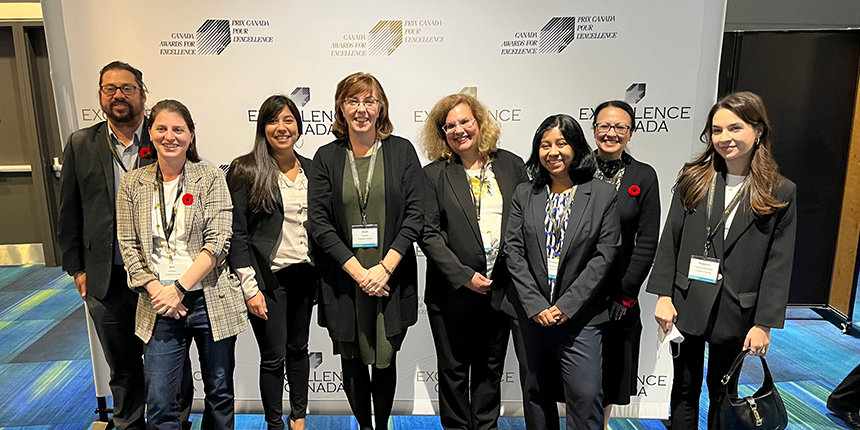 On November 7, several staff from Engineers Canada attended the Excellence Canada Summit and Canada Awards for Excellence. The conference and awards ceremony focused on inspiring attendees to aspire toward excellence by gaining insight on what it takes to be a strong organization and to learn best practices from Canada's most inspirational thought leaders and peers.  
After two years of virtual conferences, there was a buzz throughout the event in holding a face-to-face event. This reflected the overall conference them of the importance of relationships throughout teams.  
"All organizations need to lean into their colleagues and recognize the power it has to have an impact," says Heidi Theelen, Engineers Canada's Director, Strategic Planning and Organizational Excellence. "Whether you're in an office or working remotely, the people you are shoulder-to-shoulder with are those who can help hold each other up."  
Lt. Col. Stéphane Grenier reinforced this point during his opening keynote. Speaking of his time serving in Rwanda and Afghanistan and how those experiences impacted his mental health, he shared how vital it is that organizations invest in their employee's mental health. This means both enabling access to mental health services, but also in helping their people have meaningful conversations instead of the avoidance techniques that are so pernicious.  
"Grenier shared his realization that we often focus on the wrong things when dealing with mental health," says Matthew Kulka, Content Management Specialist with Engineers Canada. "The notion that people have been taught incorrectly that mental health can only be helped by experts was especially memorable."   
A significant part of successful workplaces is fostering a culture where individuals can feel fully present with an organization. A panel discussion on equity, diversity, and inclusion with Marc Andrews, Deputy Chief of Peel Regional Police, Roberto Hausman, the Founder of Diversity Leaders Alliance, and Phyllis Webstad, Founder and Ambassador of the Orange Shirt Society provided a broad view of how if an organization can implement these practices in a fair and transparent manner—and if leaders commit fully—it can empower everyone in the organization to achieve more. 
Claudia Harvey discussed her career in business as an entrepreneur and how she has had to pivot multiple times. Her key concept was 'who has your back?', emphasizing that you had to seek your allies and work with them while ignoring the negative noise.  
For Lili El-Tawil, Engineers Canada's Translator-Reviewer, this reminded her that while she may be the organization's only translation staff member, she's hardly a team of one.  
"The idea that no successful endeavour happens without others enabling you to achieve it really resonated for me," says El-Tawil. "While my job seems individual, I believe that without the support of our external translators and my coworkers who are prepared to help facilitate my work, my job would be much more difficult. It gives me strength to know so many have my back."  
In 2021, Engineers Canada obtained Gold certification against Excellence Canada's Excellence, Wellness, and Innovation Standard. Known within the organization as the Journey to Excellence, Engineers Canada embarked on this path because it sought a structured, research-based framework for improving the organization.   
Since starting the journey, Engineers Canada has advanced its planning processes, further woven equity, diversity, and inclusion throughout its organizational culture, and fostered a continual improvement mindset in all areas of operations. Gold certification recognized the establishment of a comprehensive approach to excellence. The next challenge is to sustain this over the long-term, which is recognized by Excellence Canada's next tier: platinum certification.