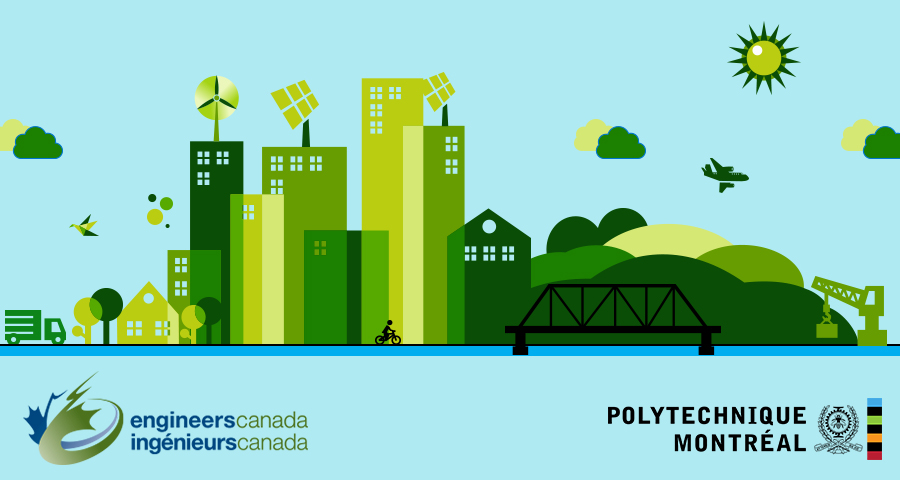 Registration now open for second offering of free online course
The first edition of Sustainability in Practice—a massive open online course jointly developed by Engineers Canada and Polytechnique Montréal—wrapped up in December to great reviews from participants.
"[The course was] a great learning package to introduce an aspiring or practising engineer to Engineers Canada's guidelines on sustainable development," reflected Brian Cove, EIT, from Pouch Cove, NL, one of the course participants.
The course launched in late October 2018 and used real-life case studies from across Canada to demonstrate the practical application of Engineers Canada's 10 guidelines on sustainable development and environmental stewardship for engineers.
In total, 1,554 participants registered for the free course, delivered over four modules in both English and French. There were participants, including engineers and EITs, from every province and territory in Canada, and approximately a third of the registrants were from countries abroad, including the United States, Morocco, Nigeria, France, Haiti, and Cameroon, amongst others. Participants represented a range of economic sectors and industry, including consulting engineering, government, construction, manufacturing, education, oil and gas, renewable resources, mining, and non-governmental organizations.
In a post-course survey, an overwhelming majority of respondents attested to the high quality of the training content, and agreed that it would be useful to them in their professional and personal life. More than 90 per cent of them were satisfied with the course and would recommend it to a friend or colleague.
In particular, respondents identified the combination of theoretical and practical learning, along with multiple case studies from real-life infrastructure projects across Canada, as their favourite aspect of the course.
"The MOOC is full of practical and varied examples of how to integrate sustainable development and environmental stewardship through its case studies," said Félix-Antoine Cardinal, an engineering student from Montréal, QC.
April Waddell, P.Eng., from Ottawa, ON, agreed. "As a consulting engineer, I found many useful examples where I can help make a difference in my own work."
Participants also enjoyed the format of the course, which was able to be completed on their own time and self-paced.
"The course is very well done, and I appreciated its flexibility," said Derek Berrigan, ing., of Longueuil, QC. "It allowed me to learn about the concepts of sustainable development related to engineering."
Given the success of this first edition of Sustainability in Practice, Engineers Canada and Polytechnique Montréal are once again offering the course online for free. The course begins on March 20, 2019, and registration is now open. The deadline for registration is April 15, 2019, and participants have until May 17, 2019, to complete the four modules.
Register for Sustainability in Practice today on the EduLib website