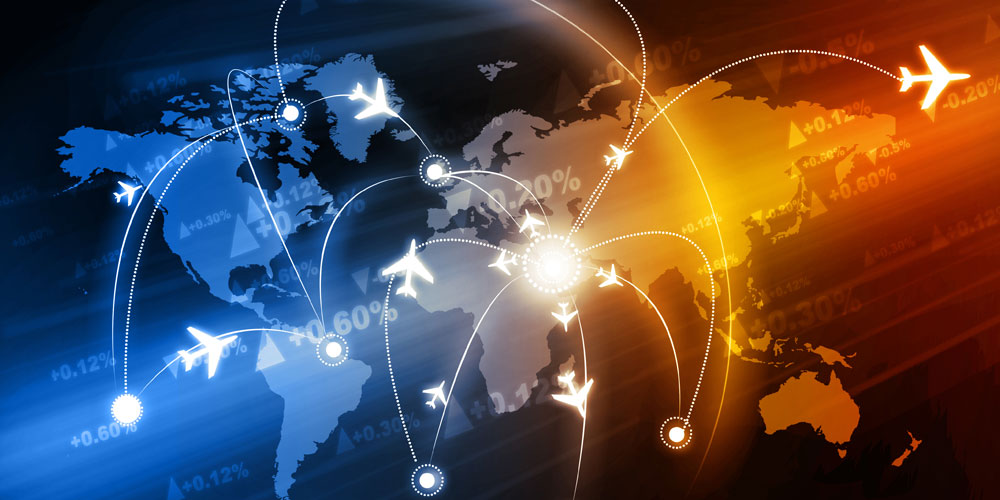 Whether it's something you've long dreamt about and actively sought out, or whether the opportunity just happened to fall into your lap, working internationally can present a number of benefits for engineers.  
Growing up on an air force base in Gimli, MB, engineer Darrel Danyluk's dreams of travelling internationally started when he saw families move in and out every four years, with friends moving on to France, Germany, and elsewhere around the world.  
"It gave me a very early impression that there is a world out there," he recalls. "The world was more than the community, the town, or even the province I was living in. I knew I wanted to play in the big world."
Not long after he graduated from university, about a year after he started working for engineering firm Reid Crowther, the civil engineer was packing his bags for a four-day trip to Haiti. Future opportunities to travel and work internationally presented themselves as he got further into his career and matured as an engineer, and his work on water infrastructure, as well as work with the World Federation of Engineering Organizations (WFEO) has since taken him to Nigeria, London, Mexico, Costa Rica, the Nile River Basin, and elsewhere.  
Likewise, for civil-geotechnical engineer Leon Botham, working internationally wasn't something that he actively sought out, but rather, it was an opportunity that arose about four years after he had completed his Master's degree. He received a call from a colleague asking him if he was interested in working on a project at the Kumtor mine in Kyrgyzstan.  
"I was there for 16 months overall on the project, and literally fell in love with the idea of getting to work with other people, other cultures, finding out how things work in different places," Botham describes. "I never expected [to work internationally] when I began my career, but I've absolutely loved it ever since."
Since that first experience abroad, his work has taken him to almost every province and territory in Canada, and to South America, Europe, Africa, the Middle East, and Asia. "Wherever the mines are, that's where I go."
On the other hand, EIT Sarah Ben Rejeb long held a passion for Japan and actively sought out opportunities to travel there during her time as an electrical engineering student at Concordia University. She looked for exchange or research programs, and eventually found the Canada-Japan Co-op Program hosted by the University of British Columbia. She applied, and was selected for an eight-month internship at Rakuten, an electronic commerce and online retailing company in Tokyo, Japan.  
"I wanted to experience something different than my environment here in Canada," she explains. "That was really what propelled me to apply for something abroad; I was in need of a fresh new perspective, new experiences, new sensations of being some place completely brand new."  
Whether an opportunity to work abroad presents itself or you seek it out, most engineers agree that the experience can have a great impact on their careers by broadening their perspective and experiences as they meet and work with engineers and other professionals from other countries and cultures.
"You broaden your network, you broaden your experience and understanding of what the challenges are outside the domestic, local area," says Danyluk. "That international network is huge. [International engineers] have different perspectives and different understanding of the challenges than we normally would."
Ben Rejeb agrees. "That eight-month period in Japan was a moment of growth for me in my personality. On my team at Rakuten, I worked with people from the Philippines, Brazil, India, China, Hong Kong, and Japan. That gave me exposure to what it means to be an engineer from different perspectives, different ways of thinking to solve the same problem. For me that was an awakening moment."
Yet working internationally is not without its challenges, especially in developing countries. Language can be an obvious barrier, as well as cultural differences, and having the necessary resources.  
"Especially in the developing world, you have to go prepared," Botham explains. "Don't expect someone to have a flashlight or a GPS unit, you have to take it with you. Those are technical issues, but probably the biggest issue is just understanding the culture. For example, we might have a five-day work week, yet in a lot of places, it's a six-day work week. You have to understand what the norms are in the places you're working."
Danyluk adds that corruption is also sometimes a challenge when working internationally in developing countries.
"You could see it, it was tough to deal with," he recalls. "In countries where corruption is rampant, it's normal. Trying to fight that with our perspective is difficult."  He adds though that the WFEO's Anti-Corruption Committee has worked well with international financing agencies, and the United Nations has developed good standards and raised awareness of the dangers of corruption.
Working internationally can also mean being away from your family for extended periods of time. Botham recalls that when he was working at the Kumtor mine in Kyrgyzstan, he only had five minutes per week to call home on a less than reliable satellite phone. While he acknowledges that it was difficult being away from his family, he also thinks it gave him a better outlook on work-life balance.
"I admit I missed a lot of my kids growing up," he says. "But I think it actually gave me perspective on work-life balance. Yes, I travelled a lot, but when I was home, I was home. I put in the hours I needed to at the office, but I didn't put in any more hours than I absolutely needed to [since I had put in such long hours when I was away]."
Despite the challenges, international work can be an invaluable experience both personally and professionally, and one that Danyluk, Ben Rejeb, and Botham all speak highly of and would recommend to other engineers or engineering students.
"It's a game changer," Ben Rejeb describes. "Learning to do engineering in a different way, to learn from other angles. Like it or not, cultural background really does have an effect on the way we do business, the way we do engineering in general. If anything, it just opens up your mind to accept different perspectives."
"Being somewhere else, seeing the standards and how things are done, and the creativity you have to bring, it would help anyone in their career," Botham says. "I would recommend it."

Engineering Life is an occasional series that explores the human side of engineering through stories and insights in the lives of engineers. This series is supported by affinity program partner TD Insurance, a trusted partner dedicated to helping engineers and geoscientists get access to preferred insurance rates on car, home, condo and tenant coverage.
For more information or to get a quote visit www.tdinsurance.com/engineerscanada or call 1-866-293-9730.