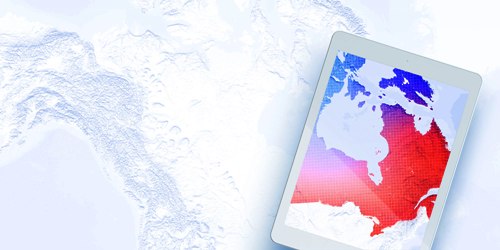 Last week, the Government of Canada announced the launch of ClimateData.ca, a site designed to support decision makers across a broad spectrum of sectors and locations by providing up-to-date, high-resolution climate data.
The site's primary goal is to increase access to climate data and information that may be of use to individuals working on projects that have the potential to be impacted by climate change. With over 20TB of data freely accessible, the site includes several notable features:
Historical and projected climate data at the daily level available to view and download at a resolution of about 10 x 10 Km
Over 25 different indicators for temperature and precipitation across Canada including extremes
Updated historical Intensity-Duration-Frequency (IDF) Curves
and a Health Sector Module, the first of a series, which will include data, information and cases studies relevant for specific sectors
ClimateData.ca is part of a larger continuum of climate data portals that aim to support a variety of climate data users in their work and research. Among its many uses, the site allows users to search for climate data by location, view interactive climate data maps with detailed time series graphs, and download datasets, including projected climate indices, historical weather station records, daily climate projections, and heat-wave analysis.
The also includes training materials to allow site users to make the most of the resources.  Additionally, the site's creators are providing a free webinar on July 22, 2019 to train users on the sites features and functionality.
The portal was developed through a collaboration between the Canadian Centre for Climate Services at Environment and Climate Change Canada, the Computer Research Institute of Montréal, Ouranos, the Pacific Climate Impacts Consortium, the Prairie Climate Centre, and HabitatSeven.
To learn more, visit the Canadian Centre for Climate Services website. You can also contact Monica Harvey at monica.harvey@canada.ca or by phone at 819-938-9613.