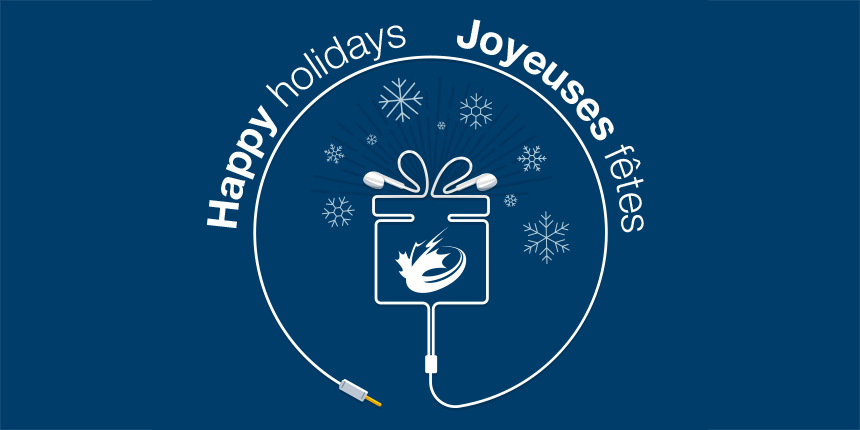 Thank you to all those partners and volunteers who helped us accomplish so much in 2021.
Reflecting on another pandemic year, our staff have compiled a playlist of our notable songs of the past 12 months - the tracks that we listened to the most, or helped us get through another pandemic year.
Below, you can read more about why these songs are meaningful to us, and you can listen to our top tracks on Spotify or YouTube.
We hope these songs inspire you as they have inspired us. All the best from the Engineers Canada team for a happy and healthy holiday and new year.
The Engineers Canada Playlist 2021
(It's Gonna Be) Okay by The Piano Guys
"I love the Piano Guys, and this song has just been a song that has gotten me through some tough times both this past year and even before the pandemic started. Great lyrics, and beautifully arranged."
-Marie-Thérèse Robinson
Associate, Member Services
Let's Go On The Run by Chance the Rapper
"I packed up everything I owned and moved to Ottawa to join the Engineers Canada team, and this was my happy 'new beginnings' song!"
-Yasemin Tanaçan-Blacklock
Associate, Equity, Diversity, and Inclusion
We Didn't Start the Fire by Billy Joel
"It makes me think about some of the 'events' humanity has been through in the past, and that COVID-19 is just another one that we will overcome and that we'll come out stronger on the other side."
-Derek Menard
Director, Finance
Bad Habits by Ed Sheeren
"Who didn't pick up any bad habits over this past pandemic year?"
-Evelyn Spence
General Counsel and Corporate Secretary
9 to 5 by Dolly Parton
"An absolute classic by an absolute queen, and an anti-anthem for Engineers Canada!"
-Elise Guest
Accreditation Program Advisor
Around Here & Everywhere by Okies
"This song helped ground me whenever I felt overwhelmed or anxious. It has such power and yet is as comforting as a ballad."
-Emily David
Planning, Event, and Change Practitioner
Gonna Be Alright by Mali Music
"In the midst of another crazy year, it was a reminder that no matter what weird turns life takes, have hope and have faith because things are going to be just fine."
-Imani Trusty
Communications Specialist
Welcome - Homecoming Live by Beyoncé
"It's just a really great, fun way to get pumped up."
-Elise Guest
Accreditation Program Advisor
Roses - Imanbek Remix by SAINt JHN
"Great song for background music."
-Evelyn Spence
General Counsel and Corporate Secretary
Oxytocin by Billie Eilish
"The standout track on her new album, imho!"
-Elise Guest
Accreditation Program Advisor
I Still Have Faith in You by ABBA
"Some people have spent the pandemic watching everything on Netflix (like yours truly). Others reunited one of the best-selling music acts in history to record a brand new album after 40 years. The songs, the nostalgia—it's just what this ABBA fan needed during the second pandemic year."
-Shelley Ford
Communications Specialist
Cover Me in Sunshine by P!nk, Willow Sage Hart
"Never fails to put me in a good mood!"
-Isabelle Flamand
Specialist, Qualifications
My Mind by Yebba
"We were all focused on loosing our minds during the pandemic....this kept me from doing so."
-Lisa Dennis
Office Coordinator
Mujer Del Agua by Lucila Al Mar
"This was sung to me live on my balcony this summer with Sangria and twinkling lights. Lucilla is a neighbor and good friend."
-Lisa Dennis
Office Coordinator
Ma mère chantait toujours by Marie-Pierre Arthur
"A song that I have song to my daughter every night before bed since she was born in early 2019.  A reminder of songs passed down from my mother, who lives far away and who I've seen so little of over the last two 2 years. It's a nightly reminder that, I can hold a part of my family in my heart with me and pass that along to my own family every night."
-Jessica Christou
Planning, Event, and Change Practitioner
Christmas Eve/Sarajevo by the Trans-Ssiberian Orchestra
"This is the ultimate Christmas song."
-Randa Dirani
Researcher, International Institutions
Feliz Navidad by Jose Feliciano
"Christmas in Costa Rica 😊"
-Alexander Olivas
​​​​​​​Coordinator, Accreditation Visits
Last Christmas by Wham!
"Makes me feel so nostalgic!"
-Randa Dirani
Researcher, International Institutions
Piano Man by Billy Joel
"This is one of the greatest songs ever written. Watching the video gives me hope that life will get back to normal and people will freely walk into bars and restaurants to enjoy themselves."
-Ivan Ntale
Information Systems Analyst
Lean on Me by Bill Withers
"We all need each other especially during these times."
-Ivan Ntale
Information Systems Analyst
Better Together by Jack Johnson
"The Organizational Excellence team is better together! The team is ending the year strong and more unified than ever."
-Organizational Excellence team
The Wellerman by The Longest Johns
"When #ShantyTok went viral, The Longest Johns (who'd been performing shanties for years) invited their fans to record a version with them. They set a world record with 6,500 singers. In a year that had all of us digging deep to get through hard times together, the shanty found a new life."
-Brent Gibson
Manager, Communications
Brave by Sara Bareilles
"This year has been a year filled with learning new skills, building on our resiliency, and being brave to try new things."
-Organizational Excellence team
"Iskwē is a strong powerful Indigenous voice. More than ever, we need to hear, see, listen, act. She has many great songs, most of them touch on issues affecting Indigenous people; this one is no exception and sadly talks about missing and murdered indigenous youth."
-Michelle Oser
Coordinator, Accreditation Visits
Jerusalema by Master KG (featuring Nomcebo Zikode)
"It feels a part of this melody was made for me because every time I hear it, it alerts my heart to give thanks for life and to do my work with enthusiasm, joy, love and passion. I could listen to it all day long 😊"
-Maria Arrieta
Manager, Foreign Credential Recognition
The Twist by Chubby Checker
"Though not from that musical era, I listen to Jukebox Favorite playlist on CBC Music. So as an alternative to stretching, the moment those first few bars of The Twist by Chubby Checker played, I was out of my chair, singing out loud and... twisting. It always made me smile (and laugh a little thinking how this looked if someone saw me). I always felt great during and after! Thank you Chubby Checker."
-Carole Roy
Associate, Member Services
Lost on You by LP
"Such a fabulous tune from a non binary human with a fantastic voice
-Michelle Oser
Coordinator, Accreditation Visits
No Time To Die by Billie Eilish
"I love orchestral music for working. This melody is an extraordinary piece of music that inspires me to achieve the mission and fills me with energy to pursue the goal. I like to listen to it, whenever there is a challenge at work and I need a boost of energy and a higher dose of motivation than usual. My year was full of lovely challenges. The soundtrack of the James Bond movies is perfect for this."
-Maria Arrieta
Manager, Foreign Credential Recognition
Optical Illusions by William Orbit
"It's been an optimistic, tranquil background music song."
-Joachim Toelke
Web Specialist
Winter (Antonio Vivaldi) performed by the Asturia Electric String Quartet
"Vivaldi's pieces are very beautiful. They are a gift for the ear, an inspiration for the soul. I like to hear them in the classic version as well as in contemporary versions made with different samples and instruments. I particularly enjoy the Winter piece for its sequence; it inspires me to create."
-Maria Arrieta
Manager, Foreign Credential Recognition
O'stravaganza by (After Vivaldi's Sinfonia, RV 168) performed by Le Orfanelle della Pietà
"It speaks to challenges, but also hope."
-Marie Claverie
Translator-Reviewer
"This song gives me hope."
-Martha Oram
Content Management Specialist
"This piece speaks to the isolation of telework."
-Marie Claverie
Translator-Reviewer
S.O.B. by Nathaniel Rateliff and the Night Sweats
"Because some days that's just how you feel."
-Gerard McDonald
CEO 
I Will Survive by Gloria Gaynor
"I believe the title says it all."
-Carole Roy
Associate, Member Services
Under Pressure by Queen & David Bowie
"I first heard this song when I was an engineering student. My friends and I would sing it during challenging times. I came across it again recently and it resonated with me as a pandemic theme as it speaks to what many I know have experienced. In the end, it is also an uplifting song."
-Jeanette Southwood
Vice President, Corporate Affairs and Strategic Partnerships
"It's uplifting, fun, and helps remind us to stay positive."
-Joachim Toelke
Web Specialist
Sing a Simple Song by Sly & the Family Stone
"It's an upbeat, fun song to help take your mind off your worries."
-Joachim Toelke
Web Specialist