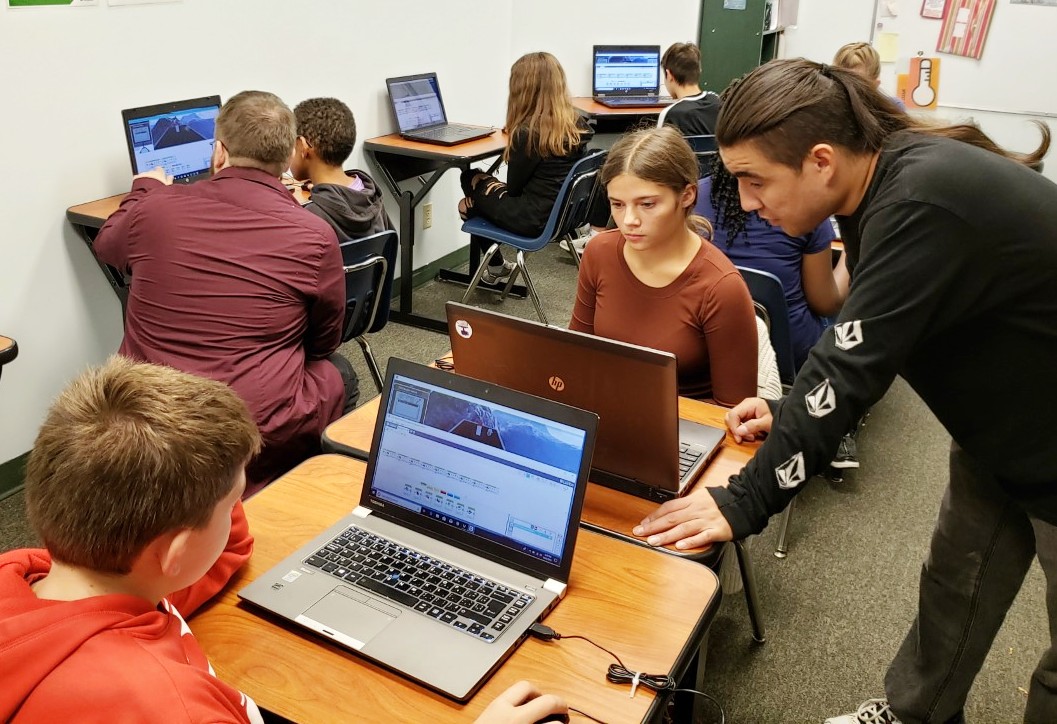 "One time a kid simulated a horse and wrote a code to make it gallop," says Priyanka Tuteja. "This student did not have any robotics/coding experience. The joy of seeing a child coming to the classroom knowing nothing and going out knowing more than the instructor is mind blowing."
This is just one of the many memorable stories from two pilot programs that the Learning Disabilities Association of Manitoba (LDAM) has been running this fall. One of these, the Lego Club, teaches students how to work as a team to solve a problem. The other, a robotics program, taps into the Virtual Robotics Lab run by Cogmation Robotics and First Nation Robotics. It's designed to introduce kids to concepts in robotics and then give them hands-on coding experience.
"We saw a gap in our programming when it came to STEM," says Karen Velthuys, who is the executive director for LDAM. "STEM programming seems to take a back seat for people with learning disabilities," she notes, "as there is a stronger focus on literacy."
Velthuys and her team set out to address this gap. They saw an opportunity in students' natural gifts with technology. "We wanted to create programming that teaches math, science, engineering, and technology in an engaging and fun way," she says.
"We wanted to create programming that integrates these core subjects into a visual and tactile learning curriculum."
According to Tuteja, who serves as director of operations and marketing for LDAM, these programs are particularly important because "Robots are the future and our children need to be ready for it." In fact, she sees robotics and coding as skills that are "as important as learning to read and write."
The programs teach more than hard skills, too. One key benefit of the programs according to Velthuys is that they build children's confidence to learn. She says providing "an environment where our students feel comfortable to make mistakes" was a key element of the program development.
In this kind of environment, things may start off simply, but the learning progresses quickly. "We start from scratch," notes Tuteja, "and explain different concepts in a way that make it easier for young minds to understand what robots are, what is their significance in the world, and how they work."
That's when the connections really begin to happen. Tuteja says, "When they hear that they can create their own little Google Driverless Car in this classroom they get pretty excited. This is one of many things they can do."
"The creativity that results from the sessions we host is marvellous."
One of the biggest surprises in the program, says Velthuys, has been the students who are signing up for it—60 percent of whom are girls.
She notes that "Getting women, especially those with a learning disabilities, into STEM programming is important to us. We need to have women represented in this field and we want to encourage our female students to be excited about the many different avenues that are available to them in this field."
Velthuys also says that many students have been eager to integrate the school work with what they're learning through the programs. "We have students bringing in science projects and presenting to their peers on molecular structure, and other students designing boats out of Lego and recycling at lunch time to see which designs work better. We also have students offering to assist with computer updates and other daily IT tasks."
All of this points, in Velthuys's mind, to a core issue: "The biggest lesson we have learned is just the sheer need for these programs and these partnerships."
"Going forward," she says, "it's our goal to have both STEM and literacy equally represented in our programming."
The two pilot programs will wrap up in early November, but it seems like there are big plans ahead for Velthuys, Tuteja, and their colleagues and partner organizations. To learn more about the programs, you can check out the pages on IDAM's website for Lego Club and the robotics program.