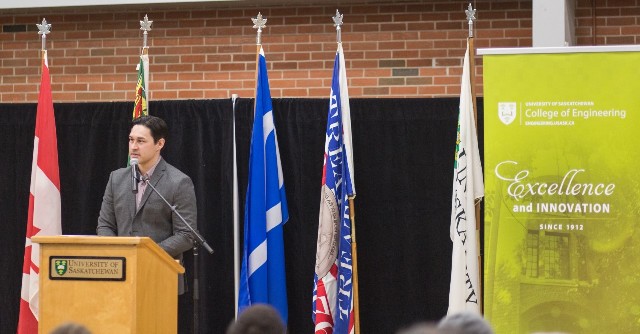 The University of Saskatchewan (USask) announced the launch of Canada's third indigenous access to engineering program on March 18, 2019. The program, called the IPIC Engineering Access Program, was developed under the Indigenous Peoples Initiatives Community (IPIC) program at the USask College of Engineering. This new initiative forms a key component of the USask College of Engineering's strategic plan.
In the official press release, Susan Kresta, Dean of the College of Engineering, said, "We want Indigenous young people to know that engineering is a great career option for them." She also noted that the program was developed to support "every part" of Indigenous students' journey through university.
Jacqueline Ottmann, Vice-Provost of Indigenous Engagement at USask, said in an article for the Eagle Feather News, that "We benefit as a society when our students graduate from these programs."
The USask program has been designed to account for and address key barriers facing current and potential Indigenous students in engineering: getting the prerequisite courses to begin, successfully navigating the transition into university life, and finding the ongoing social, academic, and financial supports needed for students to succeed.
Matt Dunn, who is a member of Engineers Canada's Equitable Participation in Engineering Committee, was instrumental in creating the access program. He says that "from a student perspective, these programs should provide opportunities for students to be themselves, find their community of peers, and enjoy their time as a successful engineering student."
Dunn's larger aim is to bring the proportion of engineering graduates in Saskatchewan much closer to the province's 16 per cent of people who identify as First Nations, Métis, and Inuit. As of 2017, nationwide, Indigenous students represented only 1.2 per cent of the total number of student population in engineering programs.
While deeply aware of the Indigenous students who were either unable to enter college, or those who did not have the same community resources in place as they went through their degrees, Dunn also keeps an eye to the future. "These programs provide new opportunities for Indigenous students," he says, "to obtain excellent careers in an important and exciting profession."
"Indigenous engineering graduates also provide the opportunity to enrich the profession through a more diverse workforce and the enhancement of community-engaged research and engineering practice."
The results of Indigenous access programs are proven. The University of Manitoba's ENGAP program, which we featured in this 2018 article, has now contributed to 125 Indigenous graduates in engineering and counting. Randy Herrmann, Director for the program, estimated that if the program were to be cancelled, it would result in a 50 per cent drop in enrolment. Likewise, Melanie Howard, Director of Outreach and Aboriginal Access at Queen's University's Faculty of Engineering and Applied Science, says that her university's program has contributed to a 1,000 per cent increase in Indigenous student enrolment.
While engineering programs across Canada still suffer from chronic underrepresentation of Indigenous graduates, Indigenous access programs offer a clear path forward for higher education students wishing to address the long-standing and complex challenges faced by Indigenous people who want to become engineers.