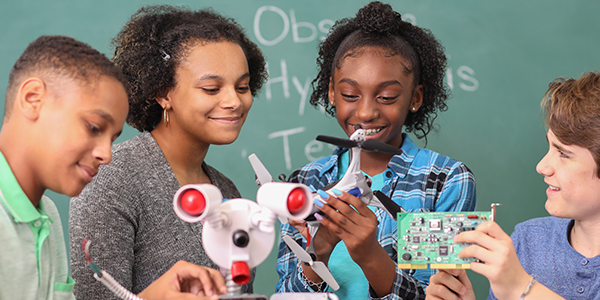 As part of our work towards the 30 by 30 goal, Engineers Canada has worked with engineering outreach experts within the 30 by 30 Champion's network to develop a guide to assist engineering outreach programs address gender stereotypes, promote the engineering profession, and embed equity and inclusion throughout their work. The guide provides a set of rubrics with which K-12 engineering outreach programs can evaluate their strengths and weaknesses in promoting inclusive practices for everyone regardless of their gender, sexual orientation, race, class, or visible/invisible disability.
 "Outreach programs are a great way to expose children and youth to engineering and spark their interest," says Jeanette M. Southwood, Engineers Canada's Vice-President of Corporate Affairs and Strategic Partnerships. "We hope that this guide serves as a useful tool in evaluating these programs to ensure that outreach programs are accessible to all, and that they're challenging negative stereotypes and outdated perceptions of engineering so that we can build a profession that is diverse, equitable, and inclusive."
The "30 by 30 K-12 Outreach Guide" is intended for programs that offer engineering outreach activities to children and youth, of any gender, from kindergarten through high school. The guide is a starting point that these programs can use to evaluate, build on their current strengths, and challenge themselves to make improvements in diversity, equity, and inclusion practices.
The guide presents rubrics for six key areas:
Breaking societal stereotypes: this rubric is meant to evaluate how well a program challenges existing stereotypes, such as that women are not engineers or are not good at math.
Influencing the influencers: this rubric evaluates whether a program provides materials to parents, teachers, and/or counsellors to help them talk about the value of STEM subjects to girls, and how diverse the mentors and role models are that engage with program participants.
Perception of engineering: this rubric evaluates how well a program challenges existing perceptions that engineering is only about building bridges and offers ways in which program participants can see that engineering offers endless possibilities that relate to everyday life.
Interactivity of the program: this rubric evaluates how hands-on a program is, and whether it connects participants with mentors and role models.
Participant equity: this rubric evaluates how effective, accessible, and meaningful the program is for children and youth from underrepresented backgrounds.
Pathway to licensure: this rubric evaluates how well a program, depending on the level or age group, highlights to next steps to continue along the engineering pathway toward licensure.
The full guide can be found on Engineers Canada's website.
The "30 by 30 K-12 Outreach Guide" is a product of Engineers Canada's 30 by 30 network, a collaborative national initiative to increase the number of women in the engineering profession and see 30 per cent of newly licensed engineers be women by 2030.