Engineers Canada is working to increase the representation of women within the engineering field through its 30 by 30 initiative. This initiative has a goal of raising the percentage of newly licensed engineers who are women to 30 percent by the year 2030; currently this figure is at 17.9 percent, and has held steady at this rate over the last three years. Thirty per cent is universally held as the tipping point for sustainable change--reaching 30 by 30 will help drive the shift in the overall membership of the engineering profession as more and more women continue to enter the profession. 30 by 30 has received national support across all provinces and territories. Engineers Canada collaborates with engineering regulators and other stakeholders to facilitate a national vision on this issue. Whether it is in academic programs, places of employment or other areas, Engineers Canada seeks to work with or recognize organizations that make significant progress in increasing women in engineering.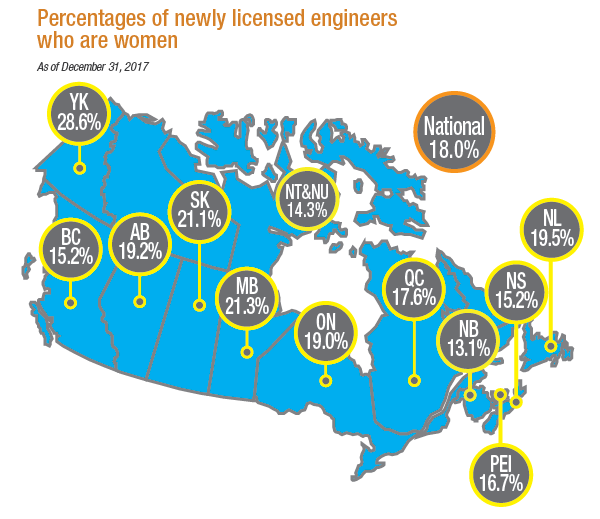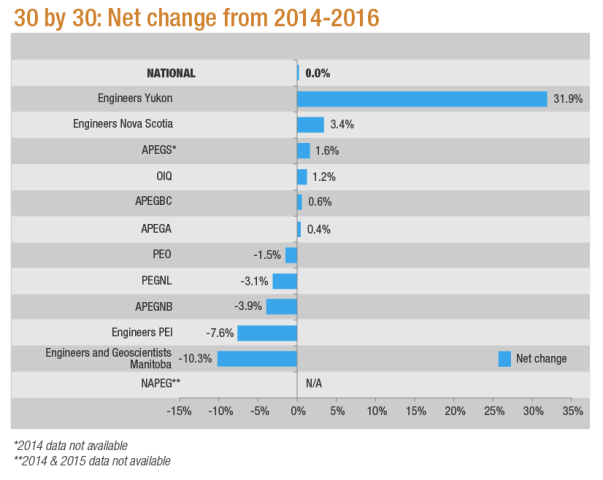 Universities
Undergraduate engineering programs are contributing to 30 by 30 by having specific initiatives in place to increase the percentage of women among their students or by already having women account for 30 per cent of their first-year students. A few examples include:
University of Toronto: Women now account for 40.1 per cent of first-year students in U of T engineering programs—a record for the Faculty and a number that surpasses all other Ontario universities.
University of British Columbia: Nearly three out of 10 students in UBC's first-year engineering programs are women and UBC Engineering has set a goal of 50 per cent female enrollment by 2020.
York University: The Lassonde School of Engineering launched a $1.5 million-challenge to become the first engineering school in Canada to reach a 50:50 gender balance.
University of New Brunswick: Engineering at UNB is adopting admission practices that are welcoming to all qualified women applicants to allow them to enter into any engineering discipline of their choice.
Engineering regulators
Engineering regulators have taken a number of steps to increase the number of women in the engineering profession:
Engineers Canada and each regulator has assigned a dedicated 30 by 30 champion
Engineers Geoscientists Manitoba has formally adopted 30 by 30 as one of their organizational objectives
Engineers Nova Scotia's annual "Spotlight on Innovation" event highlights the work and achievements of its female members
APEGNB hands out five Inspirational STEM teacher Awards to K-12 educators that inspire the next generation of students
Engineers and Geoscientists British Columbia has developed a set of Human Rights & Diversity Guidelines for its membership
30 by 30 Champions
Engineers Canada: Sarah Devereaux
CEO Group Champion - Jim Landrigan
Engineers Yukon – Kirsten Hogan
NAPEG - Melanie Williams
EG British Columbia - Susan Hayes
APEGA - Mohamed El Daly
APEGS - Margaret Anne Hodges
Engineers Geoscientists Manitoba - Kathryn Atamanchuk
Engineers Ontario – Helen Wojcinski
OIQ - Kathy Baig
EG New Brunswick - Christine Plourde
Engineers Nova Scotia - Sarah Devereaux, Len White
Engineers PEI - Glenda MacKinnon-Peters
PEGNL – Justin Haley
OSPE - Angela Wojtyla, Sandro Perruzza
Canadian Academy of Engineers – Jeannette Montufar
Association of Consulting Engineering Companies- Canada - Todd Smith
Canadian Federation of Engineering Students – Dani Lake
Engineers of Tomorrow  - Erica Lee Garcia
University of British Columbia- Okanagan- Yang Cao
University of British Columbia -Sheryl Staub-French
University of Victoria - Alexandra Branzan, Michael Zastre
British Columbia Institute of Technology – Phyllis Chong
University of Alberta – Ania Ulrich
University of Calgary - Qiao Sun
University of Saskatchewan - Dena McMartin
University of Windsor – Jacqueline Stagner
Western University – Lesley Mounteer
Conestoga College- Karen Cain
U of T Faculty of Applied Science & Engineering - Lisa Camilleri
York University - TBD
Carleton University – Cynthia Cruickshank
University of Ottawa - Jacques Beauvais
McGill University - Fabrice Labeau
Université de Sherbrooke- Eve Langelier
Université de Moncton - François Duguay
University of Prince Edward Island - Amy Hsiao
Dalhousie University-Amyl Ghanem
Memorial University – Darlene Spracklin-Reid
Resources and links of interest
30 by 30 Guide Download the Guide for actions you can take to contribute to this important objective, or refer to the 30 by 30 Brand Guidelines
Canadian Engineering Regulators Provincial and territorial regulators offer many varying programs from outreach to professional development for audiences ranging from their members to students and the community at large
EngineerGirl An outreach site brought to you by the National Academy of Engineering (NAE) to bring attention to the opportunities that engineering presents for girls and women
Ontario Network of Women in Engineering (ONWiE) A network of Ontario schools and faculties that work together to support women that are currently engineers or students and to encourage the next generation to pursue engineering as a career through programs such as Go Eng Girl.
Society of Women Engineers A US-based organization dedicated to the success and the achievement of full career potential of women in engineering.  SWE's website offers valuable information and resources.
WINSETT Centre The WinSETT Centre aims to encourage, retain and advance women in science, engineering, trades, and technology (SETT) careers through partnerships, delivering leadership workshops, and promoting women as role model and mentors.