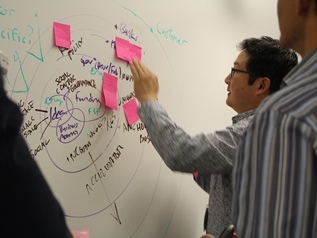 Engineers representing all sectors of the profession convened in Ottawa, ON, from October 1-2, 2016, to explore how to "re-engineer" innovation.
The workshop, held as part of the Engineering Change Lab initiative, challenged participants to tackle systemic issues such as ethics, diversity, collaboration, culture and innovation. 
"Engineers are innovative problem-solvers by nature," said Kim Allen, MBA, FCAE, FEC, P.Eng., Engineers Canada's Chief Executive Officer. "When we're concentrating on innovating the world around us, the Engineering Change Lab is the incubator we need to reflect on how we can innovate the profession itself. In turn, this will serve to propel the profession forward and increase our capacity to contribute positively to society — economically, environmentally and socially."
In addition to topics such as diversity, socio-technological innovation and leadership, lab participants examined how university curricula for engineering could be modernized to fill the gap between education and industry. Employers have remarked that engineering students are graduating with strong technical skills, but that more communications, collaboration and leadership education is needed to help them effectively apply the skills in a corporate setting and contribute to organizational goals.
In the coming months, members of the team will scope out what a more innovative engineering curriculum could look like, while simultaneously delving further into the gaps and building participation from a selection of universities.
"The thinking behind the Engineering Change lab is an intriguing dichotomy of returning to our roots, as well as moving forward," said Mark Abbott, MBA, CMA, PMP, P.Eng., Engineering Change Lab secretariat. "Historically, engineers have been regarded as on the cutting edge of socio-technological change. Focuses have shifted over the decades and the Lab is a concerted effort to reclaim a position of innovation leaders."
Engineering Change Lab was established in 2014 by Engineers Canada and Engineers Without Borders Canada as a platform for collaboration to allow individuals and organizations from across the profession to take action to address the systemic challenges that have been holding back the profession's full potential. It is comprised of senior leaders (CEOs, VPs, deans, directors, etc.), representing more than 40 organizations across corporate, academic, government and non-profit sectors, that together are representative of Canada's engineering profession.
For more information, visit www.engineeringchangelab.ca.