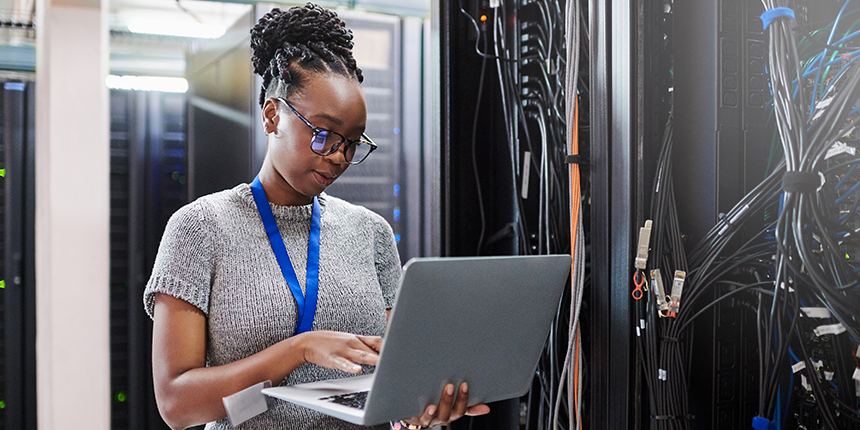 Outreach programs that aim to create more STEM and engineering opportunities for Black youth. Stories of mentorship and those inspiring future Black engineers and researchers. Stories that celebrate Black engineers who played critical roles in building our communities, and the stories of engineering students today who will be the next generation of engineers. These are some of the great Black History Month reads from the engineering and STEM communities that you won't want to miss:  
Engineering and STEM outreach to Black youth 
Queen's University featured its Black Youth in STEM program and its leader Cressana Williams-Massey. Designed to support children in grades one through nine, the club offers hands-on programming in a Black-positive space, with a focus on making learning fun. Most of the programming, which is free for participants, is delivered by Queen's engineering students who identify as Black. Since it launched in January 2022, the club has secured a number of new education partnerships and has reached over 330 young people. 
Likewise, the Lassonde School of Engineering at York University received funding to launch its own STEM program for Black youth, called the Specialist High Skills Major (SHSM) educational program for Black youth in grades 7 to 12. Part of Lassonde's k2i academy Bringing STEM to Life in Schools stream, the SHSM program will work with some of the largest and most diverse school boards in the Greater Toronto Area (GTA) to implement a tailored initiative designed to reach more than 1,500 Black youth in science, technology, engineering and mathematics.  
Mentoring and inspiring the next generation 
The University of Toronto's Faculty of Applied Science and Engineering wrote about a student-led initiative, with support from the faculty, that is working to fill the gap left by a lack of formalized mentorship programs for Black undergraduate students who wish to pursue graduate studies.
Engineering Graduate Connections, founded by graduate students Anuli Ndubuisi, Mai Ali, and D'Andre Wilson-Ihejirika, held its first event held last year that introduced students to pathways to research and included discussions on navigating imposter syndrome in academia and research spaces. Future events will feature a panel of alumni from industry sharing their career paths outside of academia and experiences with graduate school, with the goal of supporting Black undergraduate students to get into research. 
Dalhousie University featured engineering alumnus Jennifer Ladipo and the work she is now doing to inspire children and youth to pursue engineering. She created TheSTEMGirl website, which aims to encourage young girls to view themselves as both feminine and scientific by telling representative stories. She has also published five books aimed at representing young women in STEM through storytelling. She continues her efforts to motivate the next generation of engineers through her work as National Program Manager for Black Girls and Youth at Actua, where she uses her engineering background to create hands-on activities for youth.  
Celebrating Black engineers and engineering students 
CBC wrote about Cornelius L. Henderson, an engineer who played a key role in building border crossings in Windsor, ON, and Detroit, Michigan. Working for the Canadian Bridge Company, Henderson was involved in the design of the steel trusses that make up the Canadian approach to Ambassador Bridge, and the steel tubes in which the Detroit-Windsor Tunnel sits. Efforts are currently underway to publicize Henderson's life and legacy on both sides of the border, led by the Essex County Black Historical Research Society, and the Black Historic Sites Committee.  
Likewise, the life and work of Oliver Bowen was highlighted in a piece by Daily Commercial News. A civil engineer, Bowen oversaw the design and build of Calgary's CTrain in the 1970s and 80s, one of the largest infrastructure projects in the city's history and which today, transports 50 million people per year. A spokesperson for the City of Calgary quoted in the article said that Bowen was credited for his pioneering work in this area at a time when light-rail technology was virtually unknown in North America.  
Memorial University's Gazette highlighted some of the achievements and unique experiences of members of Memorial's chapter of the National Society of Black Engineers as they navigate their engineering studies, as well as insights from alumni about what it's like post-graduation.