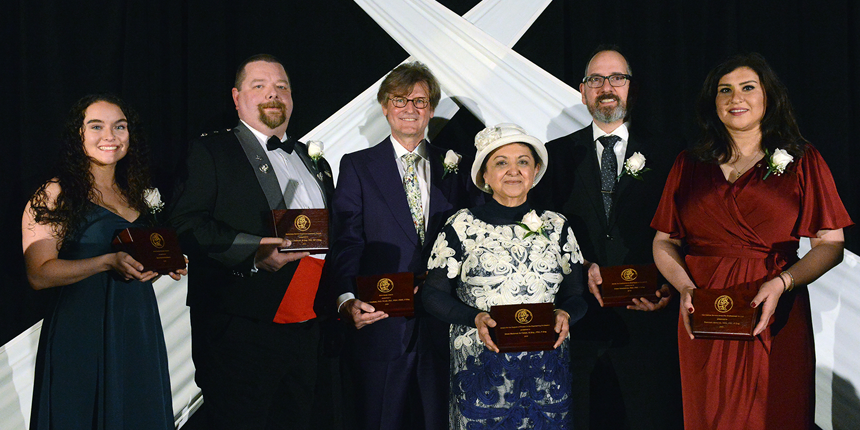 Engineers Canada is celebrating the exceptional work and achievements of six trailblazers in engineering. At the 2023 Awards Gala, taking place Thursday evening in Halifax, the six award recipients are being recognized for their transformative impact on the profession and the world.  
These exceptional individuals have not only demonstrated excellence in their fields, but are actively transforming the culture of engineering. From leading institutional change and championing equity-deserving groups, to grassroots community involvement and student mental health, these engineers are redefining what it means to be an engineer in the 21st century. 
In a month-long online celebration, stories of the engineers' achievements will be highlighting how their contributions continue to build a better world for everyone. These individuals are shaping the world through engineering education, research, community involvement, the advancement of women and under-represented groups in engineering, and creating solutions to help tackle our society's most pressing challenges. They exemplify the outstanding contributions engineers are making at all stages of their careers across diverse fields of expertise.  
The 2023 Award recipients are: 
Janusz Koziński, PhD, FCAE, FEC, FEIC, FRSC, P.Eng. - Gold Medal Award 
Damineh Akhavan, MBA, FEC, P.Eng. - Meritorious Service Award for Professional Service 
Michael Halliwell, M.Eng., FEC, EP, P.Eng. - Meritorious Service Award for Community Service 
Peter Ostafichuk, PhD, FEC, P.Eng. - Medal for Distinction in Engineering Education 
Mona Shahwan El-Tahan, M.Eng., FEC, P.Eng. - Award for the Support of Women in the Engineering Profession 
Annemarie Summers - Gold Medal Student Award 
To learn more about our recipients, visit https://engineerscanada.ca/awards2023  
For more information, contact: 
Brent Gibson  
Manager, Communications  
Engineers Canada  
613.232.2474 x234  
brent.gibson@engineerscanada.ca