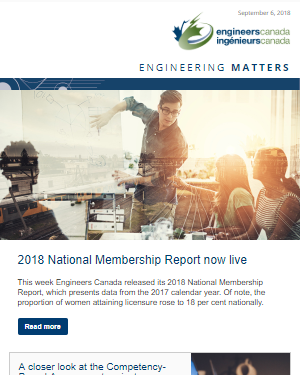 Following a summer of analysis, planning, and design work, on September 6, 2018, we relaunched our newsletter as Engineering Matters. With a more focused layout, streamlined newsletter text, deep-dive stories, and more ways to discover related content online, we hope that the changes we've made will provide an improved overall experience for anyone and everyone who wants to keep up with the work we're doing.
Notably, the new look and focus of Engineering Matters is the culmination of a process that actually began in Autumn 2017. At that time, we undertook an environmental scan, which looked at our e-publications through four distinct lenses: analysis of strategic opportunities within Engineers Canada, past publication data analysis, STEP context analysis (social, technological, economic, political), and an analysis of industry best practices for e-communication. We wanted to understand where we were tapping into existing opportunities and what kinds of improvements we might undertake to make our communication more useful and meaningful for readers.
To supplement the knowledge we'd gained with more audience-specific data, in March 2018 we ran a reader survey that explored audience interests, online behavior, newsletter preferences, and demographics. Survey results indicated a remarkably diverse readership, with a good balance along the axes of gender, age, interests, and relationship to the engineering profession. We also learned that while existing readers were satisfied with the newsletter overall, our new subscriber rate had significant room for improvement compared to top publications.
This combined information suggested that the time was right to make a change. We recognized that improvements to the newsletter would have critical benefits, for example, in terms of communicating the execution and progress of the Engineers Canada 2019-2021 strategic plan. Sparking the interest of new readers would help us advance strategic priorities such as 30 by 30 and the online Competency-Based Assessment project – initiatives that are having a real-world impact on the engineering profession and its future. Overall, we recognized that a stronger e-communication platform would mean better amplification of the work we do as an organization.
With that in mind, we reduced our publication schedule over the summer and set to work assembling our insights and translating them into specific design and content improvements. Among these, we opted to introduce lead and feature stories that would provide more in-depth explorations of the work being done by Engineers Canada, as well as issues affecting regulation and the profession. We also introduced a new feature, the Daily Media Report recap, which curates the top engineering-related news stories from the two weeks leading up to newsletter publication.  Overall, we wanted to reduce the amount of time it takes to sift through the key information in the newsletter, while increasing the opportunity to dig more deeply in the places where it matters to specific readers.
While the launch of Engineering Matters marks an exciting culmination of a lot of work, as always, we remain committed to continual improvement. Change can be disruptive, even when well-intended. If you have any questions or would like to provide any feedback on the changes we've made, please do not hesitate to contact us at communications@engineerscanada.ca.