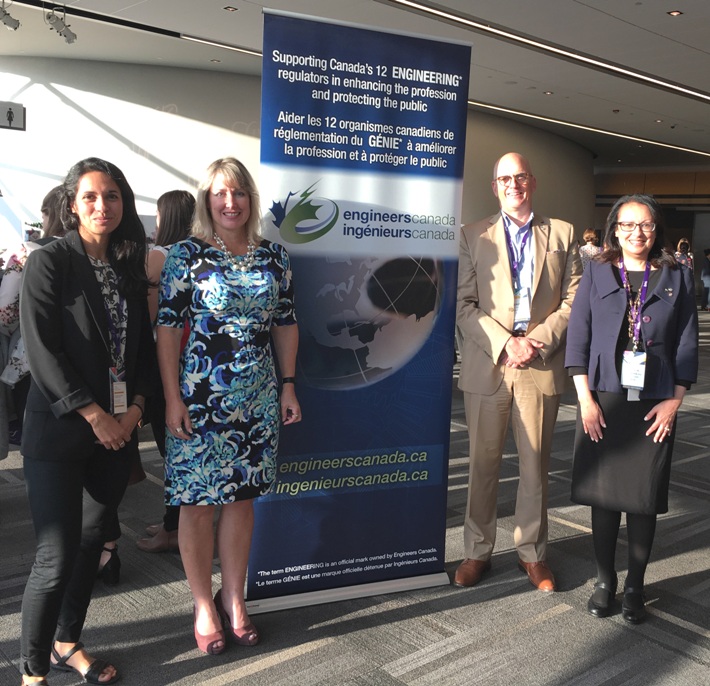 After Lieutenant Colonel R.P. Sabourin completed her PhD, she immediately moved into a role where she was supervising a team and helping implement a project involving multiple international players. This monumental change threw her life out of balance, and it wasn't until she started making changes in her personal life that things began to come back into focus.
Such personal stories of resilience in overcoming personal and structural challenges came up time and again throughout this year's Claudette ​MacKay-Lassonde Fall Forum, the Ontario Society of Professional Engineers' (OSPE) annual conference that explores issues facing women in engineering. At their heart, these stories told a larger story about the way that so many achievements, both recent and historic, are made possible through the concrete, practical ways that women find to balance career demands with their personal lives.
Given the challenges of recruiting and retaining women in STEM, the importance of these stories is not to be underestimated. "Forums like this provide an important way for us to build a collective memory and collectively share our solutions," says Annette Bergeron, Engineers Canada's President.
During her remarks to attendees, Bergeron spoke about the importance of connecting a vision with action, highlighting the goal of having women represent 30 per cent of newly licensed engineers by 2030: "We must stop thinking of 30 by 30 as a distant future and begin to think about what resources we can draw on now to make it a reality."
In terms of the resources available to achieve such goals, the forum was in no short supply. The day-long event, organized by OSPE's Women in Engineering Advocacy Champions Task Force (WE ACT) took place at Ottawa's Shaw Centre October 10, 2018 and was attended by over 800 people from industry, military, academia, professional associations, and more.
This cross-sector participation is valuable, notes Bergeron, but it is also important that we continue to push for strong participation of licensed professionals in such forums. "Those are the people who are doing it," Bergeron says, "and we need to hear from them about how they are making it happen."
There was a wide range of practical advice that emerged from the presentations and conversations at the conference, but a few key themes came up again and again:
The value of developing soft skills such as communication and collaboration, as well technical skills
The importance of self-care for career success
The crucial role parents and teachers play in making children comfortable with STEM
The enormous benefits of connecting with mentors, sponsors, and like-minded individuals for support
The need to find your voice and use it
For more on the proceedings and outcomes of the conference, visit the WE ACT conference page.