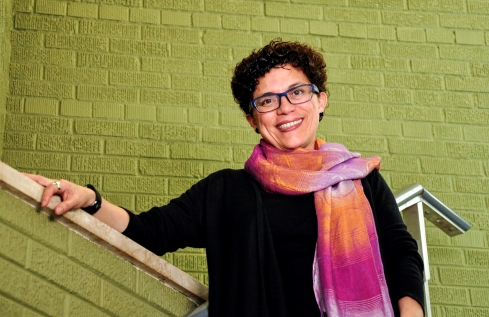 When 30 by 30 Champion Jeannette Montufar was growing up, her father told her that "education is the key that opens any door," and it was a lesson she never forgot. Her parents believed that education was the best way to gain economic freedom and empowerment, and in her words, they sacrificed a lot to ensure that she had access. This eventually led her to an engineering degree, but it also got her thinking about how she could empower others in life by helping them gain access to education. That thought has led to some remarkable contributions over the years.
Several years ago, she established the Hummingbird Education Fund to provide scholarships that help women go to university who may not have had the chance for a variety of reasons. "From the perspective of a woman," Montufar says, "having a post-secondary education allows for economic empowerment and freedom, as well as the opportunity to have an impact on society as a whole."
She also notes that, when it comes to mothers, "When children see a woman who can choose, and a woman who is not in a threatened situation because of access, it has a great impact."
From there, Montufar got involved with Engineers Geoscientists Manitoba's work on 30 by 30, becoming the catalyst in a coalition between the regulator and the Government of Manitoba through her role as Chair of the Manitoba Women's Advisory Council. The initiative, called Engineering Changes Lives, has been designed to increase the number of women in engineering but also critically reframe the way people think about the role of engineers in society. This coalition now includes key Manitoba employers and educators.
Montufar and others involved with the initiative are working on developing an approach which is expected to revolutionize engineering outreach efforts in the province.
"Instead of going to girls and asking them to come into engineering," she explains, "we discovered that we needed to go to both girls and boys and tell them about the great things engineering does. We need to tap into the social interest girls have and attract them into engineering that way."
She elaborates, "Introductions to engineering have traditionally been focused on the things you can build with engineering, on problem solving, math, and science. Now we seek to connect kids with a sense of engineering's purpose. We ask them, 'Do you want to help implement a way that Lake Winnipeg can be saved? Do you want to help people stay in contact with each other with better phones?'" She says that by starting with the motivation, traditional barriers like tough math and science become incidental.
"If you want to change the world," she says, "you will find a way."
Recently, she was invited to become 30 by 30 Champion for the Canadian Academy of Engineering (CAE), a new role where she's very excited to contribute. She says she's particularly interested in continuing the CAE's work on raising awareness about the importance of engineering as a profession of choice for women in Canada.
She also says that she will work to ensure that CAE continues to contribute towards achieving gender parity in engineering. She sees this as a key part of the organization's greater mandate of serving the nation in matters concerning engineering.
When she speaks of the role and what her approach to be, it's easy to see how this is a natural next step from the work that has come before. "One of my goals," Montufar notes, "is to change the dialogue regarding what it means to be an engineer and make sure we all see engineering as a driver of change in people's quality of life."
She adds that "Regardless of what work I'm doing, I hold the empowerment of women and the furthering of their education as centrally important." Her dedicated service to the profession has proven those words time and again, and the work she's done so far bodes well for the future of 30 by 30.