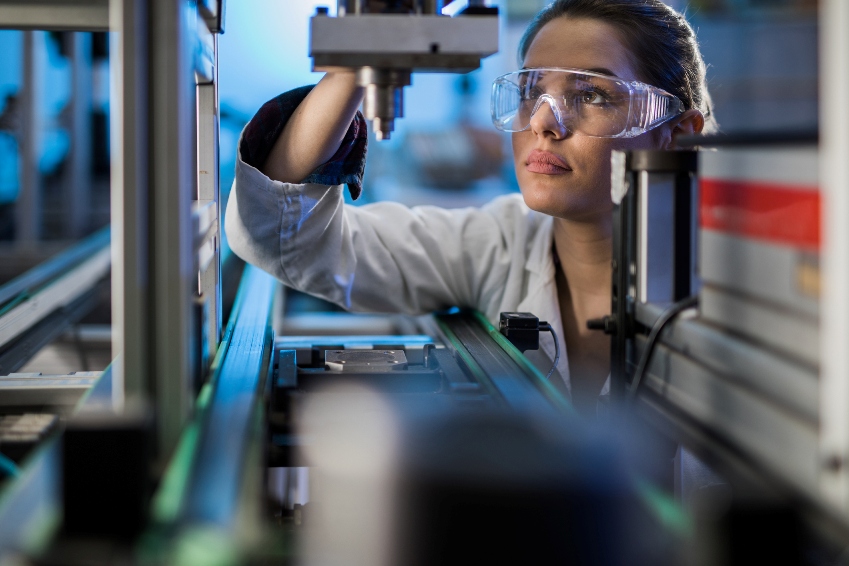 In September, Engineers Canada released its 2018 National Membership Report. Among other findings, the report indicated steady growth of the profession in 2017. The total membership of the provincial and territorial engineering regulators reached 295,000, up 2.4 per cent from 289,000 in the previous year. 
Within that larger number, we also saw an increase in the proportion of women newly licensing as engineers, bringing us a step closer to the goal of raising the percentage of newly licensed engineers who are women to 30 percent by the year 2030.  While Engineers Canada plays a role in national efforts on increasing this number, the people who are working to make the goal a reality are spread across the country.  
All of Canada's engineering regulators have endorsed the 30 by 30 goal, and some regulator councils have demonstrated their support for the initiative by allocating dedicated resources, including hiring diversity coordinators and funding programming on 30 by 30. Moves like this reflect a deeper culture shift, taking some of the work that's already been accomplished by Women in Engineering committees and incorporating it into the fabric of organizations. 
Through such efforts, in 2017, Saskatchewan saw its number of newly licensed engineers who are women rise, putting it several points ahead of the national average. Margaret Anne Hodges, 30 by 30 Champion from the Association of Professional Engineers and Geoscientists of Saskatchewan, feels that much of their progress towards the goal stems from efforts to raise awareness. "30 by 30 is generating a conversation about women in STEM," she says. "The conversation generates awareness, awareness creates choice, and young women are hearing they can choose engineering—and they are!"  
Engineers Yukon also reached impressive heights—a stone's throw from the national target of 30 per cent. Kirsten Hogan, 30 by 30 Champion from Engineers Yukon provided her thoughts on this number, saying that "In the Yukon, we have found that our success is due to building a community within our female membership, where engineers who are women feel included and supported." As for the future, she says that, "We hope that the 30 by 30 initiative continues to build on this sense of community to allow all of our members to reach their full potential, and to inspire the next generation of engineers."  
Melanie Williams, 30 by 30 Champion from Northwest Territories and Nunavut Association of Professional Engineers and Geoscientists echoes the sentiments of Hodges and Hogan, saying that many of the success stories of 30 by 30 can be attributed to "jurisdictions getting the message out there." She feels strongly that "If we continue to promote the initiative and reach as many people as possible, the number of newly licensed women engineers will keep going up."  
The 30 by 30 Champions, a nationally representative group of allies from regulators, associations, industry, and academia have been working behind the scenes to generate more of the awareness that engineers like Williams feel is so critical. In 2019, the Champions will be working to better define the areas where efforts have been effective and where they need to grow. This understanding, in turn, will feed into a larger plan to develop a reinvigorated national program strategy.   
Notably, in the next several years, it will become easier to assess the impact the program is having on the representation of women in the profession. That's because 30 by 30 was initiated in 2014, which means that many engineering program graduates who were finishing their degrees at that time will soon qualify to apply for licensure. 
In the meantime, new Champions have continued to join the cause every month, and each one doesn't just add to but amplifies the overall efforts. At the end of the day, though, 30 by 30 isn't just a number. It reflects the desire for an engineering profession that is stronger and more resilient, benefitting increasingly from diverse perspectives that can address the complex problems of the future.