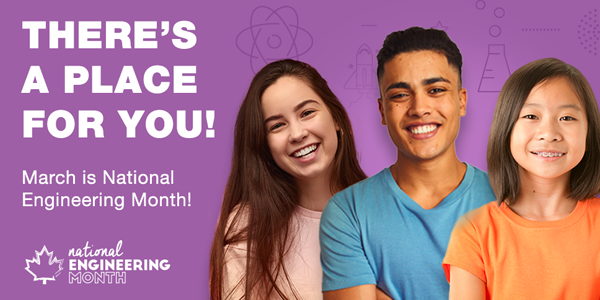 March was National Engineering Month, an annual campaign that features fun and inspiring events that will spark an interest in the next generation of engineers, and that celebrates the role that engineers play in society.
As we reflect on the month's events and activities, Engineers Canada sends its appreciation to all event attendees, organizers, and partners. Thank you for making this year's National Engineering Month truly unforgettable! This year's celebrations featured 55 events organized by dozens of organizations from across Canada on a variety of subject and themes and for different audiences ranging from children and youth to university students and engineering professionals.
#NEM2022 Event Highlights
The Future of the P.Eng. Licence
On March 1, we marked the beginning of National Engineering Month and Ontario celebrated P.Eng. Day with the NEM Ontario Kick-Off event. Steve Paikin from TVO's The Agenda moderated a panel discussion on the Future of the P.Eng. Licence with opening remarks from Engineers Canada and OSPE, and featuring panellists from some of the engineering regulators, including PEO, Engineers and Geoscientists BC, and APEGA.
Engineering Geniuses - Curious Careers
On March 24 and 25, Let's Talk Science organized an event for elementary school students to discover engineering career options and learn what it takes to follow your passion. From computer and civil engineering to more specialized fields such as aerospace and biomedical, students learned that engineering careers are wide-ranging and are crucial to society.
Virtual Engineering Competition
This virtual engineering competition asked Grade 9-12 students to enter as teams of four to solve an engineering problem. Given the theme of carbon reduction, the teams had to research and come up with their engineering solution to retrofit an old building to reduce its carbon footprint.
Continue exploring engineering year-round
Though the National Engineering Month celebrations may be over for another year, children and youth can continue to explore the world of engineering year-round by visiting Engineers Canada's ExploreEngineering.ca website for more information about the different types of engineering, and fun engineering activities that can be done at home or in a classroom.