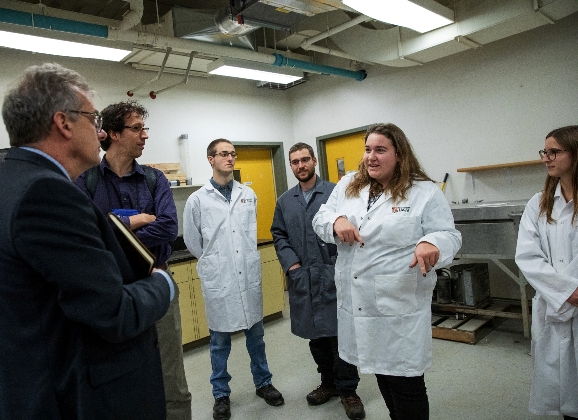 May 13, 2019 was a big day for Engineers Canada, and particularly the dedicated members of the Accreditation Improvement Program (AIP) team. It marked the launch of this year's Enrolment and Degrees Awarded Survey—an annual survey that collects valuable information on the makeup of engineering programs across Canada. While this is significant on its own, the how is even more exciting. This year's survey was delivered using the accreditation team's new data management system, Tandem.
The search for a new technical platform for accreditation and the Enrolment and Degrees Awarded Survey began with requirements gathering in 2017 and a request-for-proposals in early 2018. Last September, we announced our partnership with Armature for the delivery of this system, and subsequently selected its name, following stakeholder consultation, as Tandem.
This new platform was chosen with the aim of improving the existing system's flexibility and reliability. As requirements were gathered, the AIP team also recognized that the platform had the potential to reduce duplicate entry of data that institutions were required to provide for both program accreditation and the Enrolment and Degrees Awarded Survey. The use of the same system for both tasks was a natural fit.
Notably, the AIP, under which Tandem is being deployed, consists of much more than the introduction of an improved data management system. Just as integral to the program are improvements to stakeholder consultation and communication, accreditation volunteer training, and continual improvement processes.
In order to prepare for the initial use of Tandem, accreditation staff delivered five training sessions (two French, three English) that were attended by 78 registrants. These sessions provided users with an introduction to the look and feel of Tandem's interface and features, as well as an overview of the survey process and in-depth discussions about the platform's functionality. Session participants said they felt ready to start using Tandem for Enrolment and Degrees Awarded survey, and their suggestions for improvement were logged and are already being addressed.
Planning for the next phase of deployment of Tandem—its use for accreditation itself—is well underway. When the platform is eventually rolled out for use in accreditation, it will be accompanied by similar training and continual improvement processes. These will benefit from improvements made based on feedback gained from this initial deployment.
The data collection period for the 2019 survey wraps up on June 21, 2019. To learn more about the Accreditation Improvement Program, visit the AIP pages at engineerscanada.ca.