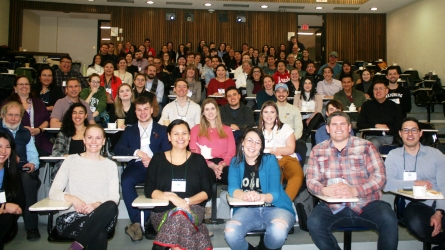 The third annual national gathering of the Canadian Indigenous Science and Engineering Society (.caISES [dot-see-eh-sis]) hosted over 170 participants for three days of celebration, workshops, and meetings at the University of Saskatchewan from February 28 to March 1, 2020. The event brings together Indigenous STEM (science, technology, engineering, and math) students and professionals to network and build relationships.
"Connecting Indigenous students in science, technology, engineering, and math with Indigenous mentors and potential employers is vital to their professional success," says Matt Dunn, P.Eng., Indigenization and Reconciliation Coordinator at the University of Saskatchewan and one of the coordinators for this year's gathering. Dunn is also a long-time Engineers Canada volunteer, a previous Chair of the Equitable Participation in Engineering Committee and current member of the Indigenous Advisory Committee.
"These students are the future," Dunn says. "They are incredibly engaged and passionate about their STEM disciplines, so all we have to do is create this supportive and nurturing space for them to thrive."
While the students networked, learned from one another, talked with Indigenous STEM professionals and scholarship-granting organizations, the employers at the event had a chance to meet bright and accomplished young Indigenous people looking to establish a career in STEM.
The weekend also featured sessions for students, post-secondary institutions, and employers alike on various topics, including how to foster sustainable and respectful collaboration with Indigenous communities through projects and research methodologies, Indigenous STEM outreach programs, pathways for Indigenous students, and navigating colonial mindsets for Indigenous people in post-secondary education and in workplaces.
Friday's keynote speaker was Randy Herrmann, Director of the Engineering Access Program (ENGAP) at the University of Manitoba and a member of Engineers Canada's Indigenous Advisory Committee, who has been investing in Indigenous engineering student success for over 30 years. Herrmann presented on the rich array of Indigenous technologies that directly relate to modern Western engineering design principles and concepts. The integration of Indigenous ways of knowing and land-based learning in engineering education is an ever-growing movement among higher education institutions as they look to innovate and address Truth and Reconciliation.
Saturday night's keynote speaker was Corey Gray, a physicist and member of the Siksika Nation (Blackfoot) in southern Alberta. Gray is the Senior Operations Specialist at LIGO (Laser Interferometer Gravitational Wave Observatory) Hanford Observatory, and part of the group of researchers that confirmed the existence of gravitational waves. His passion for physics and the ground-breaking scientific discoveries in which he has been involved is matched by his drive to make science accessible to Indigenous peoples. He has collaborated with this mother, a linguist, to translate his science into the Blackfoot language. In his presentation, he encouraged the room of young Indigenous STEM students to "bring your whole self to your science."
Ultimately, the gathering left Indigenous students, Indigenous professionals, and non-Indigenous allies feeling inspired and with a renewed sense of optimism.
.caISES is the Canadian region of AISES (the American Indian Science and Engineering Society), which for 40 years has provided networking, peer support, and mentorship to Indigenous peoples in STEM fields at all levels of their educational and professional lives. This year's annual gathering was hosted by the University of Saskatchewan and sponsored by the Association of Professional Engineers and Geoscientists Saskatchewan (APEGS), the Association of Professional Engineers and Geoscientists Alberta (APEGA), and the Aboriginal Science and Technology Education Program (ASTEP). Additional sponsors included Nutrien, TD Insurance, and Engineers Canada.
Learn more about .caISES on the AISES website