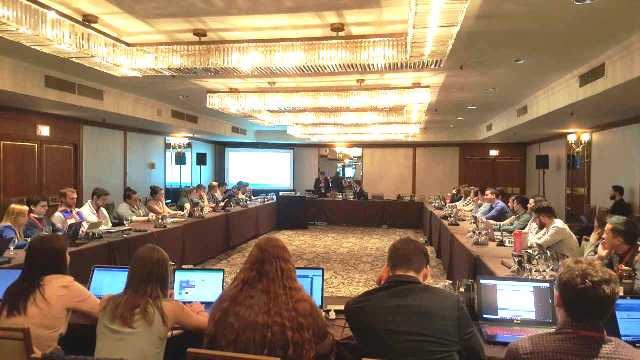 The 2019 Canadian Federation of Engineering Students (CFES) Congress aimed to tackle the some of the so-called "wicked" problems facing engineering—those complex, multifaceted issues that can only be solved collaboratively and by degrees. These range from socio-economic inequality to the impact of environmental change on the work of engineering.
"CFES Congress provides a platform for engineering students to engage and share insights with industry professionals, professors, and regulatory bodies," says Sabrina Lao, Conference Co-Chair along with fellow Co-Chair Pentcho Tchomakov. "Congress 2019 aimed to create a conducive environment, promote synergy between all parties, and leave attendees feeling empowered to seek and fulfill the greater social impact of engineering."
As a strategic partner of CFES, Engineers Canada contributed to these conversations by presenting on a variety of relevant topics, offering perspective as both experts on the profession and on the process of accreditation.
Annette Bergeron, President, Engineers Canada presented on the benefits of licensure and also joined two others for a panel on multidisciplinary engineering. Jeanette Southwood, Vice President, Corporate Affairs and Strategic Partnerships, joined panellists from the Association of Consulting Engineering Companies and MoneyLion to discuss the future of engineering. All noted the outstanding degree of attendance and audience participation.
Representing the Canadian Engineering Accreditation Board was Suzelle Barrington, who discussed mental health in engineering programs and fielded questions from students about both the Canadian Engineering Accreditation Board (CEAB) and entry into the profession. She noted that "it is important for CEAB to be present, to listen to the students, and to show that we care." Barrington and Southwood also led a session on Women in Industry.
The CFES Congress has long been known to provide a valuable forum to discuss challenging topics, and this year's event was no exception. "CFES hopes to carry on the traditions of Congress year after year," says Sabrina Lao, "to continue to equip student leaders to become successful, well-rounded engineers, to bring new ideas, and to strive for positive change in our profession."
"Keeping a strong conversation going with CFES continues to be a priority for Engineers Canada," notes Annette Bergeron. "These leaders have a pulse on the future of the profession, and that's why it's critical to for us to keep a strong, open connection by having an engaged presence at events like this."