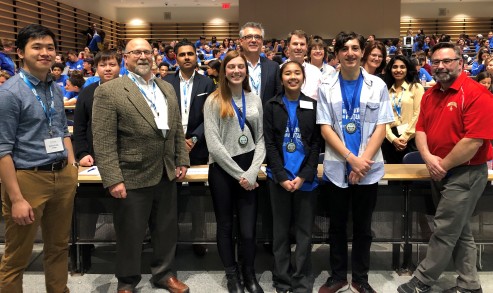 With 18 schools, 51 teams, and more than 220 students participating, the Durham Catholic District School Board hosted its second Future City Competition on May 3, 2019.
Held at Ontario Tech University in Oshawa, ON, this year's competition asked students to use the engineering design process to develop solutions for future power grids that can withstand and quickly recover from the impact of a natural disaster.  
Team Kootenay from St. John Bosco Catholic School in Oshawa, ON, took first place in the competition. Their city's power grid was vulnerable to extreme snowfall and heavy winds, and so the team integrated multiple resilient solutions, including transmissions towers that use a thicker tripod design at the base and an anti-cascading tower strategy that compartmentalize power outages to a local area. They also integrated system redundancy into their power grid design using microgrids.
Having taken first-place in the competition, Team Kootenay will have the opportunity to participate in a week-long trip to Ontario Tech University's Tech Camp this summer.
A program of DiscoverE, the Future City Competition has been held in the United States each year since 1992. With the help of program supports, Engineers Canada has brought the Future City program to Canadian classrooms each year since the 2016-2017 school year. Supporters of this year's competitions include TD Insurance, Great-West Life, Manulife, the Durham District School Board, the Durham Catholic District School Board, the Leacross Foundation, Engineers PEI, the University of Prince Edward Island, and Ontario Tech University. Future City Canada also received NSERC PromoScience funding, and numerous volunteers, educators, and STEM professionals kindly contributed their time and expertise to serve as mentors, judges, and organizers.