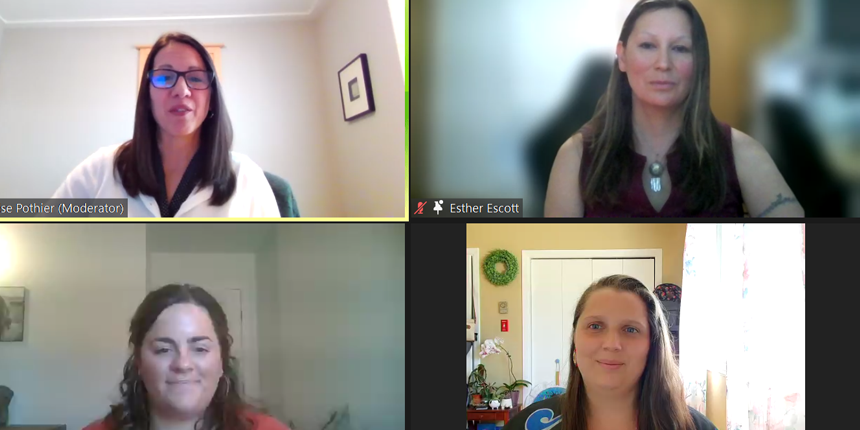 June is National Indigenous History Month, a time to recognize the history, heritage, and diversity of First Nations, Inuit, and Métis peoples. Throughout June, Engineers Canada is recognizing Indigenous History Month with events that celebrate the contributions of Indigenous engineers to the engineering profession.
30 by 30 Virtual Conference 2021: Indigenous perspectives panel
Engineers Canada's events kicked off on June 2 with an Indigenous perspectives panel during this year's 30 by 30 Virtual Conference. Moderated by past chair of Engineers Canada's Indigenous Advisory Committee Denise Pothier, the panel featured engineer Esther Escott, EIT Katrine Levesque, and Youth Engagement Officer Monika Rumbolt. These Indigenous women shared their stories and career development journeys, recounting how they have made a place for themselves in the engineering profession, the importance of the mentors who helped them along the way, the opportunities provided to them by Indigenous engineering access programs, and offered advice to others. 
A recording of the panel will be made available in the coming weeks.
Douglas Cardinal: Architect of the Future
Engineers Canada partnered with the Canadian Urban Institute for a virtual screening of Douglas Cardinal: Architect of the Future on June 3. Written by his wife, Idoia Arana-Beobide Cardinal, and produced by Douglas Cardinal, the 30-minute film is a biographic film of the world-renowned architect and explores how his Anishinaabe culture and the Indigenous knowledge system fuels his architectural creativity. The film screening was followed by a live conversation between Cardinal and Randy Herrmann, a member of Engineers Canada's Indigenous Advisory Committee and Director of the Engineering Access Program (ENGAP) at the University of Manitoba. 
A recording of the conversation is available below.
June 21: Indigenous Practitioner Perspectives on City Building
Join Engineers Canada on National Indigenous Peoples Day, for a conversation with leading Indigenous city builders from the architecture, planning, landscape architecture, and engineering professions. The panellists will explore the contributions, vision, and distinct perspectives of Indigenous practitioners in these fields. The event is a collaboration between Engineers Canada, the Canadian Urban Institute, National Trust for Canada, The Royal Architectural Institute of Canada, Canadian Institute of Planners, Canadian Society of Landscape Architects, Urban Development Institute, and Urban Land Institute.
Register for this event here.