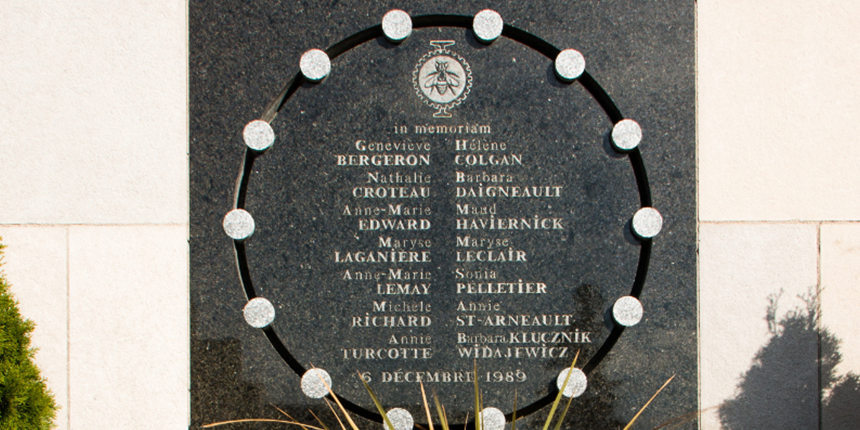 **Trigger Warning: This article includes mentions of gender-based violence. A list of regionally available crisis lines are available here for those who may need support. 
December 6, 2022, marks the 33rd anniversary of the murders of fourteen women, almost all of whom were engineering students, at École Polytechnique de Montréal. Each year, December 6 is a poignant reminder that women's presence in any realm, profession, and social setting can be met with sometimes fatal resistance. Engineers Canada is committed to shifting the culture of the engineering profession to one where all are celebrated, valued, and supported.   
In Canada, December 6 is the National Day of Remembrance and Action on Violence Against Women, which forms part of an annual international campaign that begins on November 25 and ends on December 10. This period marks the 16 Days of Activism Against Gender-Based Violence.   
Gender-based violence (GBV) is the type of abuse women, girls, Two-Spirit, trans, and non-binary people are at highest risk of experiencing. The roots of GBV can be seen everywhere, from inappropriate jokes and name-calling, to discriminatory behaviour, uninvited physical contact and gestures, harassment, and assault. GBV occurs everywhere, in the workplace, in homes, in schools. In this context, the belief that men have a right to control and harm women, girls, and gender diverse people is normalized.   
The theme of this year's #16Days of Activism "It's Not Just." It highlights how GBV is not just a private issue, but a systemic cycle that all Canadians have a role in ending. ''It's Not Just'' asks all Canadians to take action against GBV by addressing the beliefs and behaviours that perpetuate violence.  
Engineers are duty-bound to uphold the values of truth, honesty, and trustworthiness and safeguard human life. They hold paramount the safety, health, and welfare of the public. In recognition of engineers' ethical responsibilities to the public and the society engineers help build, Engineers Canada is also marking the 16 Days of Activism and the 33rd anniversary of December 6 with a series of donations to organizations across the country that are working to prevent GBV and the surrounding culture. Engineers Canada has donated to the following organizations: 
With each donation, Engineers Canada is calling attention to the issue of GBV and the role we all play in addressing its root causes. In a series of LinkedIn posts throughout the 16 Days of Activism, Engineers Canada has been sharing resources that our staff, volunteers, networks, and the engineering regulators have produced that address and call out the intersecting and overlapping systemic beliefs and behaviours that perpetuate GBV. See the posts on Engineers Canada's LinkedIn page. 
Engineering codes of ethics expect engineers to conduct themselves with integrity in an honourable and ethical manner. "It's Not Just" for the 16 Days of Activism—culture change is our responsibility every day.