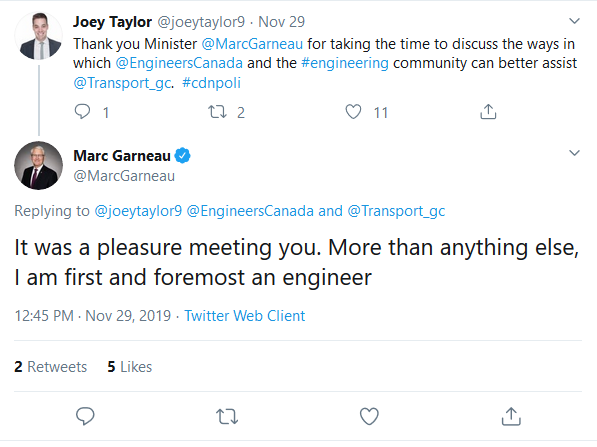 On Friday, November 29, 2019, Engineers Canada CEO Gerard MacDonald and Manager, Public Affairs, Joey Taylor, met with Transport Minister Marc Garneau in his constituency office in Montreal, QC.
Garneau is one of five engineers re-elected to Parliament in the October federal election, and he was re-appointed Minister of Transport in November. Engineers Canada discussed with the Minister potential collaborations with Transport Canada to better assist the department and the federal government in delivering its mandate.
Minister Garneau was also interested in discussing Engineers Canada's other initiatives, such as the work of the Canadian Engineering Accreditation Board in accrediting engineering programs at higher education institutions, and the 30 by 30 goal, which aims to see 30 per cent of newly licensed engineers be women by 2030.