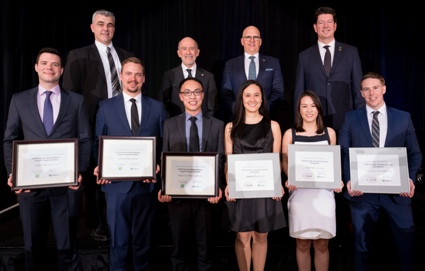 At a ceremony on February 25, 2020, Engineers Canada honoured the six recipients of its 2019 scholarship program. The recipients were chosen from a large number of submissions from across Canada. This year they represented studies in chemical engineering, clinical engineering, environmental engineering, business administration, medical education, and arts and technology. The six annual scholarships are made possible through the generous support of Manulife and TD Insurance Meloche Monnex.
"These awards recognize that engineering needs learners—people who are willing to approach problems, both of a technical and a social nature, from new and surprising angles," said David Lynch PhD, DSc(Hon.), FCAE, FEC, FEIC, FCIC, FGC (Hon.), P.Eng., President of Engineers Canada. "When I look at these recipients, I am heartened by what I see."
"We are pleased to be supporting Canadian engineering professionals and the contributions they make to society through their research and work," said Wallace Thompson, VP, Head of Distribution Affinity Markets – Individual Insurance Canadian Division, Manulife. "We are committed to meeting the needs of the membership by providing industry leading insurance products for over seven decades and continuing our long-standing relationship with the Engineers Canada scholarship program."
"We are proud to support the future of engineering and of our participation in the Engineers Canada scholarship program for over 60 years," said Anna Kavanagh, Vice President, Affinity Market Group, TD Insurance Meloche Monnex. "Our commitment to fostering long-term relationships with our business partners is what sets us apart as one of the leading providers of group home and auto insurance programs."
This year's recipients exemplify the valuable contribution that engineers make to society by innovating and helping advance our knowledge surrounding medical technology and education, nutrition, nuclear waste management, environmental protection, and interactive art.
The six 2019 scholarship recipients are working on a range of projects:
Engineers Canada-TD Insurance Scholarships ($7,500)
Gregory Bak, P.Eng., is completing his master's degree with the aim of developing his business acumen and ability to think strategically. He seeks to enhance his leadership skills so that he can better develop solutions to business problems and provide insights through quickly and accurately analyzing large amounts of data.
Jacky Chow, PhD, MBA, P.Eng., believes being a good engineer means being a lifelong learner and exploring other disciplines to improve one's own designs and solutions. His research focuses on clinical medicine, including patient-centric care, the diagnosis of diseases, disease prevention, and pharmacological and surgical interventions. In time, he hopes this work will advance radiation technologies for the diagnosis, treatment, and management of cancer.
John Desnoyers-Stewart, MFA, P.Eng., is combining his backgrounds in art and engineering to develop mixed-reality experiences that allow for personal expression, social connection, and collaborative creativity. In the long-term, he hopes to continue critically engaging with emerging technology, simultaneously seeking to push the boundaries of what is possible while remaining vigilant in exposing its dangers and ensuring it benefits society.
Engineers Canada–Manulife Scholarships ($12,500)
Amalia Gil, P.Eng., wants to improve the safety of patients, physicians, and indeed all users of the healthcare delivery systems that her work will ultimately support. She says that her current studies in health science and clinical engineering have taught her much about innovating when it comes to addressing clinical challenges, improving patient safety, and optimizing the application, implementation, and management of healthcare technology.
Kevin Wallin, P.Eng. is completing his current master's program with an eye towards his next phase: doctoral research on the mechanical behavior of clay shale. He hopes this work will advance current constitutive modelling capabilities, allowing engineers to one day model the long-term behavior of clay shale as it pertains to the design and construction of deep geological nuclear waste repositories.
Kiki Chan, M.A.Sc., P.Eng., is researching the feasibility of using stock (or bouillon) cubes as a way to deliver micronutrients to people everywhere. Beyond improving our understanding of the way processing affects the stability of micronutrients, she hopes that her work will contribute to the idea that engineering and scientific principles can be used as a force for social change.
Visit https://engineerscanada.ca/awards-and-honours/scholarship-program for more information on Engineers Canada's scholarship program. 
For more information, contact:
Brent Gibson
Manager, Communications
Engineers Canada
613.232.2474 x234
brent.gibson@engineerscanada.ca