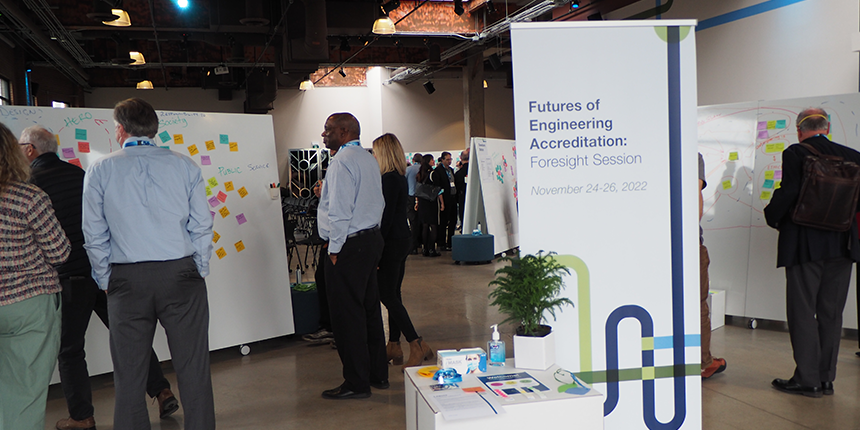 Engineers Canada's Futures of Engineering Accreditation (FEA) initiative hosted a foresight session from November 24-26. This session was the first system-wide engagement in a three-year journey to investigate and validate the purpose and scope of accreditation.
The Strategic Foresight event engaged a wide range of voices in a collaborative session to look holistically at the engineering profession, anticipate emerging shifts and begin identifying implications for the accreditation system and the academic requirement for engineering licensure. Participants included engineering regulators, deans, professors, students, engineers-in-training, people who work with engineers, and the project team.
Given everything changing in the world around us and within our own systems, we sought to tackle a big question: what will the engineer of the future need to do? Together, through a number of intentional activities, participants explored the engineering ecosystem today, shared insightful perspectives about skills and competencies required of engineers and engineering graduates, identified implications for engineering licensure, and considered emerging shifts in our world and its impact on accreditation and licensure.
For the past 8 months, Engineers Canada and Coeuraj have been seeking to understand the current range of perspectives on accreditation and licensure from around the ecosystem of Canadian engineering. What we found was, while every actor in this system is working to serve the best interests of the public, collaborative efforts to address key issues in the system can be stifled by a lack of mutual understanding, trust, and shared vision between actors. In response to these observations, we worked with a design team composed of diverse representatives of some sub-groups within the system, in order to design a session that aimed to set the tone and direction for the remainder of our project journey.
Futures of Engineering Accreditation is an initiative by Engineers Canada that leverages the insights, perspectives, and expertise of members of the Canadian engineering ecosystem to examine the current accreditation system, understand how it's serving contemporary needs, and consider how it can chart a new path for the future of our profession. FEA is an initiative by Engineers Canada, and part of its 2022-2024 Strategic Plan. It is done in partnership with Coeuraj, a design and facilitation consultancy.
More details about the event and its outputs will be shared in the coming weeks through an event journal. Visit the project website to stay up to date.