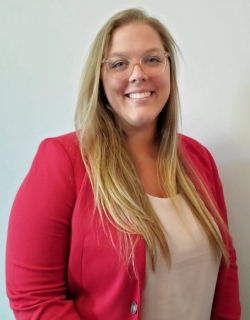 Senior Manager, Test Centre
Bell Canada
In just one month after the arrival of the COVID-19 pandemic in Canada, the number of people active online from home during a regular workday had increased by 110 per cent, according to Béatrice Laporte-Roy, Senior Manager, Test Centre, at Bell Canada.
Given the social distancing requirements set out by governments across the country, many companies enabled their employees to tele-work from home when the pandemic hit, and families and friends used virtual tools to keep in touch while staying apart. Behind the scenes of this unprecedented shift were engineers like Laporte-Roy, who were working to improve the telecommunications network to allow everyone to stay connected.
"We had to make sure Canadians stayed connected during the pandemic," Laporte-Roy says. "For the first few weeks, I worked on a major redesign of our district to ensure that we provided technical support to our customers."
"The development of new processes was essential in order to provide access to our services to the many companies whose teams were teleworking from home, or to the public using online tools to keep in touch with their loved ones or simply to stay informed. I was involved in the development of these new processes, which under normal circumstances we would never have dreamed of implementing so quickly."
At the same time, as a Senior Manager at Bell, Laporte-Roy had to adapt her management practices to ensure efficient operations and support her team as they all adjusted to teleworking during the first few days of the pandemic.
"Particular focus was put on managing our people," she explains. "The pandemic brought uncertainty and unease, so we had to manage the concerns that arose while navigating through a grey area to ensure business continuity."
Though the pandemic certainly presented its challenges to Laporte-Roy and her team, she says that it was their collaboration, agility, and speed of execution that allowed them to overcome those challenges, and hopes that the pandemic ultimately leads engineers, and others, to realize the potential they have to make an impact in areas they never previously considered.
"I believe that engineers, like many other professionals, have had to reinvent themselves in the face of the challenges presented by the pandemic," she says. "I believe that this kind of major event brings people together and allows us to find solutions to problems that go beyond the limits we usually impose on ourselves."
"Engineers are professionals who apply their knowledge and use creativity to solve problems, as they are often at the centre of decision-making. Engineers must evaluate different scenarios and associated technical risks to make a rational recommendation, while managing a high degree of uncertainty. Many helped bring about extraordinary changes, whether it was transforming a factory to produce antibacterial gel, working on the logistics of supplying protective equipment to keep our workers safe, or improving a telecommunications network to keep everyone connected."