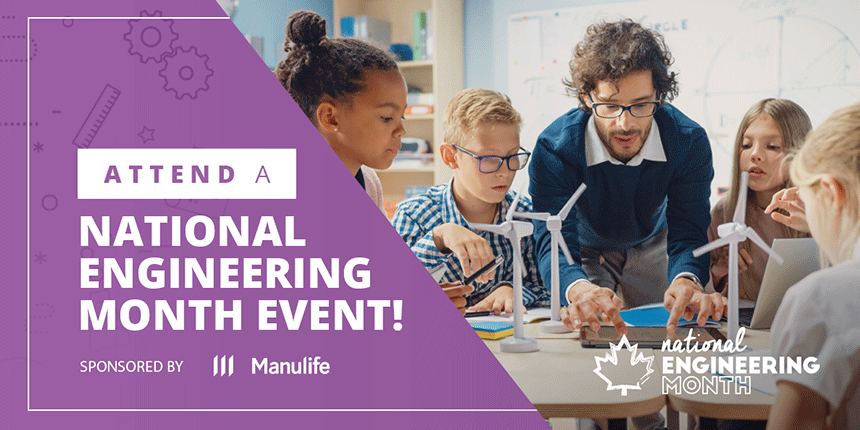 March is National Engineering Month in Canada with events taking place across the country. Some of these events introduce children and youth to the world of engineering, while others bring together engineering students, EITs, and professional engineers for important discussions about their engineering community.
Engineers Canada has teamed up with Engineers of Tomorrow to host "Where is the E in STEM: Why engineering is underrepresented in K-12 classrooms" on Thursday, March 30, 2023, from 2:00-3:00 pm ET. This virtual event will present the findings of an Engineers Canada and MQO Research project that considered the integration of engineering into K-12 curriculums across the country and will include an announcement about a national K-12 collective impact project lead by Engineers Canada in partnership with Engineers of Tomorrow and the Leacross Foundation.
Science, technology, engineering, and mathematics (STEM) teaching in the Canadian K-12 school system has increasingly become a priority for Canada's federal and provincial governments. Despite this, the literature shows that Canada is lagging the top five innovator countries in STEM innovation.
The presence of engineering as part of STEM in the classroom varies widely. Overall, engineering appears to be under-represented or unidentified in the K-12 classroom. Ultimately, engineering is lost in 'STEM' in the K-12 space—many educators do not have a clear understanding of what engineering is. Although we know that engineering is being taught in the classroom, students with a growing passion for engineering may not consider engineering as a path simply because it is not named or well-defined in the K-12 space.
In this March 30th event, Engineers Canada and MQO Research will present their findings from their comprehensive literature and best practices review, jurisdictional scan, online survey and key-informant interviews and an analysis of enrolment data across Canada. Speakers will include Brenden Sommerhalder, Vice President Client Development & Innovation, MQO Research; Kim Bouffard, Manager, Belonging and Engagement, Engineers Canada; and Rebecca White, CEO, Engineers of Tomorrow.
Find other National Engineering Month events for the engineering community in the national event calendar on Engineers Canada's website. Children and youth events can be found in the calendar on Engineers Canada's Explore Engineering website.