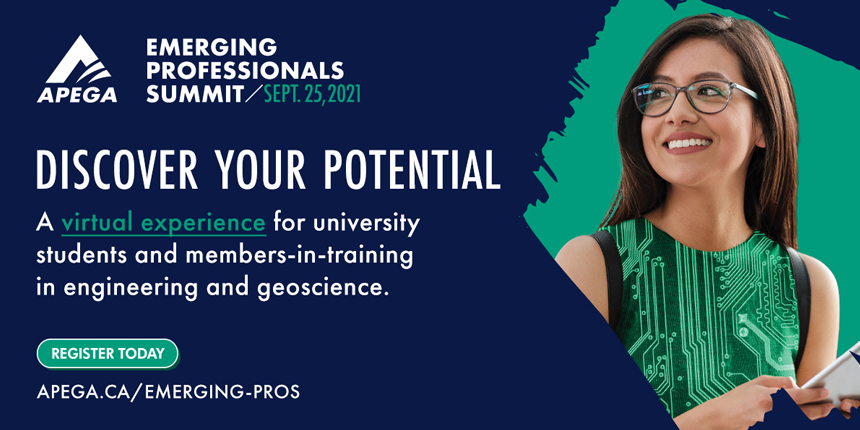 Do you know what it takes to excel in the workplace? How do you transition from university into the workforce? Do you have to sacrifice your out-of-the-box ideas to fit in at work?
APEGA's Emerging Professionals Summit answers these career path questions for engineering students, members-in-training (MITs), and engineers-in-training (EITs) from across Canada. Join APEGA at this virtual summit on Saturday, September 25 for a one-of-a-kind opportunity to get advice from industry leaders, build practical skills, and make lifelong connections. Bypass years of guesswork and learn what it takes to be a successful engineer or geoscientist. 
The summit is an engaging day of interactive learning, informative discussions, and networking opportunities for engineering students, MITs, and EITs. The event will be held virtually using a partner platform featuring the latest engagement features that will make it nearly as easy to connect with speakers and other attendees as in-person events.
Engineering students, MITs, and EITs are invited to register today for the Emerging Professionals Summit. Register here.
Engineers invited to networking mixer
The summit wraps up with a networking reception. Professional engineers and geoscientists are invited to attend an evening of virtual networking with students and emerging professionals. This is a great opportunity for experienced professionals, MITs, and EITs to share their career journey and give valuable advice to the next generation of engineers and geoscientists. Help someone spark their career and make valuable professional connections.
Engineers and geoscientists interested in participating in the mixer are asked to email Amy Elvin (outreach@apega.ca) by no later than September 17, 2021.