Find out how to join the National Engineering Month celebrations on social media this year.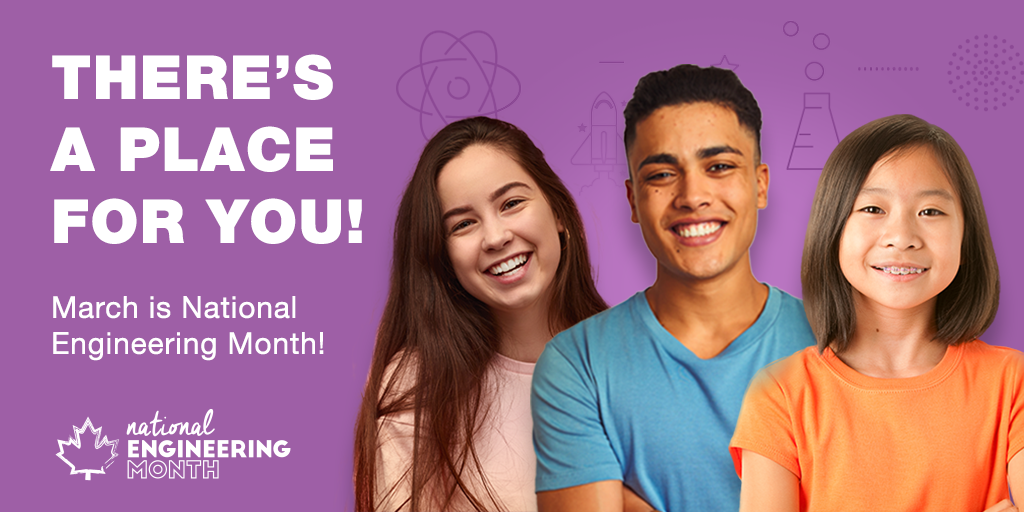 National Engineering Month kicks off March 1!
Each year, the engineering community celebrates National Engineering Month in March. With its theme, "There's a place for you," the month celebrates the diversity of thought, opportunities, and people that make up the engineering profession. The engineering community—from engineers and EITs, to engineering students and higher education institutions, to engineering companies and associations—are encouraged to join the celebration online.
Get social
Throughout the month of March, we encourage members of the engineering community to take to social media to tell their stories and share their pride in being part of the engineering community.
National Engineering Month will focus on a different theme each week throughout the month of March, during which time engineers, students, companies, associations, and others could share related content:
March 1-7: Interdisciplinary professions: share how you are working with interdisciplinary teams to design, build, and address society's needs and problems.
March 8-14: Equity, diversity, and inclusion: celebrate the diversity of the engineering profession and share the programs that are helping to ensure that the profession reflects the community it serves.
March 15-21: The next generation of engineers: engineering students can share what prompted them to study engineering, what life is like as an engineering student, and what they're planning to do as an engineer.
March 22-28: Engineer the future: share the projects that you're working on to tackle society's biggest challenges.
More ideas for how to participate on social media are available in the National Engineering Month toolkit. Make sure to tag your posts with #NEM2021 or #NEGM2021.
Activities and events for children, youth, and professionals
In addition to celebrating the role that the engineering profession plays in society, National Engineering Month also provides an opportunity for the profession to reach out to children and youth across the country and spark the interest of the next generation of engineers. Engineers Canada, in collaboration with the provincial and territorial engineering regulators, have developed a series of activities for children and youth of different age groups that aim to spark their interest in engineering. These activities highlight the "There's a place for you" theme, demonstrating that, with the many different engineering disciplines, there's almost certainly one where a child or youth's particular interests and skills will fit in.
All activities can be completed online and include a virtual engineering and geoscience scavenger hunt for children in kindergarten through Grade 6; engineering design challenges and the Future City Experience that children in grades 6 through 8 can complete with materials easily found at home; and an online engineering quiz for youth in grades 9 through 12.
More than 70 virtual events will also be held throughout the month of March, including panel discussions, workshops, and networking events for post-secondary students and engineering professionals. The virtual events are open to participants across Canada, and are being administered by National Engineering Month Ontario. Find the full list of events on the National Engineering Month Ontario website.
For more information about National Engineering Month, visit ExploreEngineering.ca.