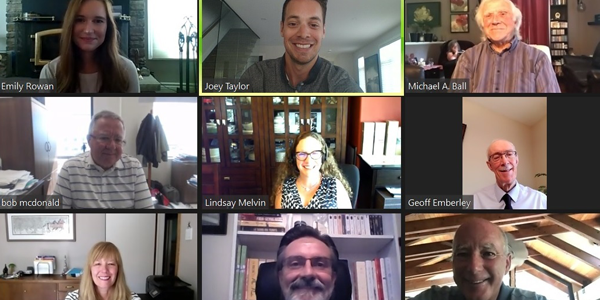 One year ago, we marked National Volunteer Week by reflecting on the commitment of volunteers for their continued support of our working groups, committees, and boards while a pandemic unravelled around them. As COVID-19 wears on – and wears Canadians out – we remain deeply appreciative of the perseverance our volunteers have shown.
The theme for National Volunteer Week this year is "the value of one, the power of many." Over the course of this pandemic the strength of connectedness has come into sharp focus. As we have navigated states of emergency, lockdowns, stay at home orders, bubbles, zones, and curfews, we see how feeling a part of something is the antidote for being apart from each other. And while we're working differently, we are still working together.
Our volunteers contribute critical advice and guidance as we work on behalf of Canada's engineering regulators to advance the engineering profession. In the coming weeks we'll be releasing our 2020 Annual Report. The bedrock of these accomplishments is the countless hours of effort our volunteers have contributed:
Shifting from in-person accreditation visits to a fully remote process without compromising the rigour of process.
Rolling out the Accountability in Accreditation framework.
Advancing accreditation working groups on online learning, required visit materials, and how 30 by 30 goals can be integrated into the accreditation process.
Advancing 30 by 30 by researching and releasing the 30 by 30 K-12 Outreach Guide and Changing the Culture for Engineering Employers guide.
Creating guidelines on risk management, assessment of engineering work experience, and engineers-in-training programs.
Providing guidance to government on responding to the COVID-19 pandemic and releasing a new National Position Statement on cyber-security.
Rapidly pivoting National Engineering Month 2020 to a fully online program, and building on this transition for the 2021 campaign.
Contributing to A Guide to Acknowledging First Peoples and Traditional Land and our report on Indigenous Engineering in Canada.
These are just a few highlights of the many ways in which volunteers enrich and empower our work. They do this because they see how their contributions form part of a greater picture of advancing engineering and improving the world for the people around them, and those who will come after them.
To our volunteers: thank you for everything you've done to help advance our mission.
These contributions are also enabled by the family, employers, colleagues, and friends who encourage and support them. Thank you for the help you provide to our volunteers.
We are hopeful that when we celebrate National Volunteer Week in 2022, we will be able to exchange hugs and handshakes instead of emojis and emails. Until that time, we'll continue to leverage the tools we have to collaborate and advance Canadian engineering. And we remain profoundly grateful for the vital role of volunteers in achieving our work.