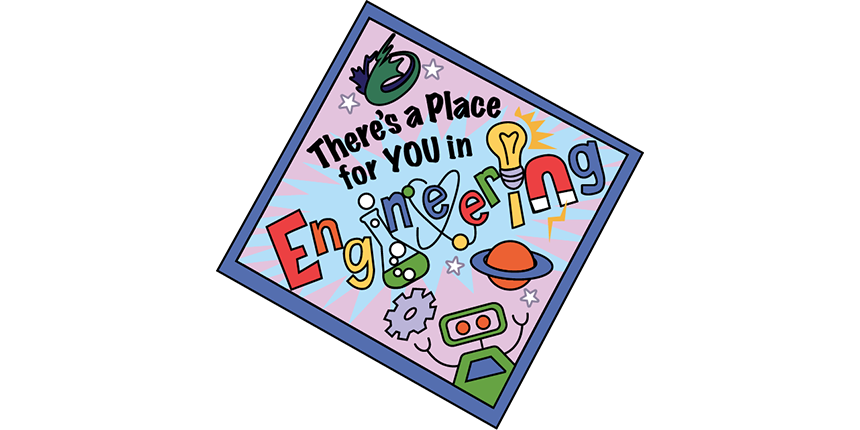 Originally created in partnership with Girl Guides Canada to be awarded to Guides who completed engineering-related activities, Engineers Canada has partnered with Scouts Canada to expand eligibility for the engineering crest to both Girl Guides and Scouts.   
To earn the engineering crest, Girl Guide units and Scout groups must complete an engineering- or geoscience-related activity. This activity will teach Girl Guides and Scouts about engineering or geoscience, and will help them gain a better understanding of how the world around them works and the role that engineers and geoscientists play in shaping our world.   
Engineers Canada has 20 activities on its ExploreEngineering.ca website that Girl Guides and Scouts units can complete to earn the crest. There are also engineering and geoscience events that take place throughout the year that help connect children and youth to the engineering and geoscience communities and that can also earn Girl Guides and Scouts the engineering crest. Unit and group leaders can also use any other relevant activities or events, subject to the approval of Engineers Canada or one of the participating engineering regulators in Canada.  
Between January 2021 and April 2022, more than 3,500 Girl Guides across Canada have earned their engineering crest by participating in an engineering activity.  
Feedback from Guide leaders has been overwhelming positive, with 100 per cent of leaders saying that they would consider completing the engineering crest again, and most leaders saying that the activity helped the Guides better understand what engineering is.   
"Prior to this, our girls really did not have any idea what engineers can do," said one Guide leader. "The feedback we have from them is that they wish to explore engineering more as it was so much fun and so very interesting!"  
Another Guide leader echoed this, saying "[the Guides] didn't know about the many disciplines [of engineering] and were surprised to learn that it was more than just building roads, bridges, and buildings."  
"Many [Guides] had preconceived notions of what being an engineer looked like," said one Guide leader. "Participating in this activity opened their eyes to a variety of different careers within engineering."  
A distinguishing feature of the engineering crest program is that it connects Girl Guide units and Scouts groups with a member of the engineering or geoscience communities who volunteer their time to help lead the groups through the engineering or geoscience activity. Participating units and groups can fill out this form to be connected with a member of the engineering or geoscience communities who can help lead an activity. Professional engineers, professional geoscientists, engineers-in-training, members-in-training, and students registered in an accredited engineering program in Canada are encouraged to fill out this form to volunteer their time and be connected with a participating Girl Guide unit or Scouts group.   
Once the engineering or geoscience activity is complete, Girl Guide and Scouts leaders can request the engineering crests—available at no charge—by filling out this program evaluation survey. The crests are shipped within two weeks of receiving the request.   
Learn more about the engineering crest on ExploreEngineering.ca.