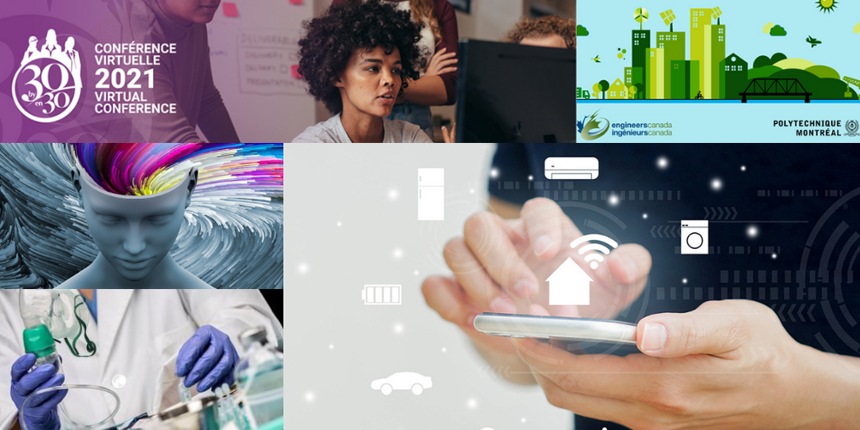 What topics were readers most interested in this past year? While the COVID-19 pandemic continued into 2021, there were a selection of stories and events that captivated readers' interests over the past year. We round up the most read Engineers Canada stories in 2021.
1. What role is there for engineers in pandemic preparedness and response?
Since the beginning of the pandemic, medical professionals have been on the frontlines in the fight against COVID-19. These challenging times left other professionals, including engineers, wondering what they could do and how engineers could contribute to help society through this pandemic. At the start of 2020, Engineers Canada posed those questions to the engineering community, sparking a discussion among engineers that readers continued to observe in 2021.
2. Seeing what others haven't: creativity and inspiration in engineering
Though engineering is a highly scientific and technical profession, creativity is woven throughout every step of the engineering design process. In the second most-read article of the year, engineers shared where this creativity stems from and what inspires them.
3. Registration now open for new offering of free online course, Sustainability in Practice
After five previous successful offerings and more than 7,800 participants worldwide, registration for a sixth offering of Sustainability in Practice opened up in January. The massive online course is offered in both English and French and uses real-life case studies from across Canada to demonstrate the practical application of Engineers Canada's 10 principles of sustainable development and environmental stewardship for engineers. Yet another successful offering, the Sustainability in Practice course proved much value to engineers this year.
4. Registration now open for 30 by 30 Virtual Conference
In June, Engineers Canada hosted the very first 30 by 30 Virtual Conference – A multi-day virtual gathering for 30 by 30 champions, engineering leaders, and engineers. The Conference is a series of presentations and panel discussions held each Wednesday throughout the month of June that focus on addressing the culture of exclusion against women and underrepresented groups (Black, Indigenous, people of colour, LGBTqQ2+, persons with disabilities) in the engineering profession. The launch of the registration for the conference garnered significant interest and we look forward to the rollout of the 2022 Conference.
5. Public safety in the 'Internet of Things' era
The Internet of Things (IoT) aims to make our lives easier, our environments smarter, more measurable, and talkative, but it comes with a risk. While many of these innovations have made our lives more convenient, they could have major implications on public safety. As the world becomes increasingly more digital, we investigated some of the risks associated with these new innovations.