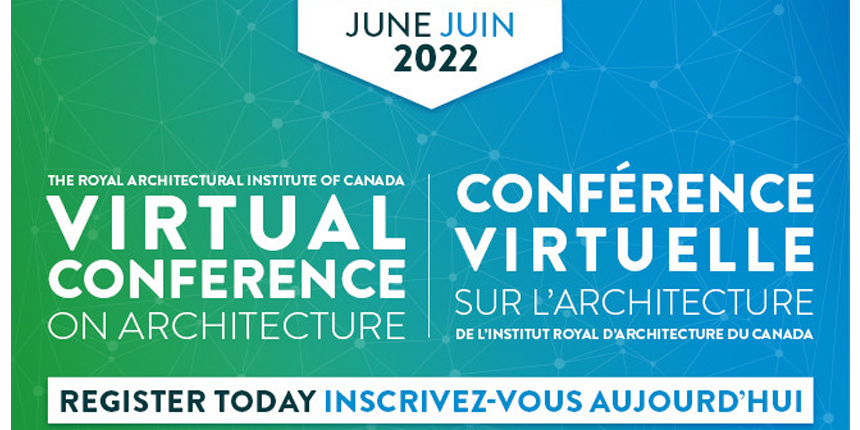 The Royal Architecture Institute of Canada (RAIC) has launched registration for the RAIC 2022 virtual Conference on Architecture.
Building on the success of the 2020 and 2021 virtual conference delivery, the RAIC will present weekly live broadcasts scheduled over several days in June. The RAIC invites you and your colleagues to join from the comfort of your own homes or offices. With over 36 hours of live and on-demand content, the event will be a great opportunity to build knowledge, skills and competencies, network with participants, all while fulfilling continuing education requirements.
The RAIC 2022 Virtual Conference on Architecture will help attendees build on ideas generated in each session through discussion boards and strengthen and diversify their knowledge through five streams of learning including: 
Health, Safety & Accessibility
Sustainability, Technology & Construction
History, Heritage & Culture
Housing, Planning & Urbanism
The Practice & Business of Architecture
"The RAIC 2022 Virtual Conference on Architecture is an opportunity for all members of the architecture community's allied professions to build knowledge, skills, and competencies"- Mike Brennan, RAIC CEO.
In addition to architectural professionals, members of the engineering community are scheduled to present sessions. Speakers from the engineering community include:
Chris Doel, Managing Principal - Integral Group
Jake Salpeter, Senior Associate, ESG Advisory Services - RSM Canada
Marie St-Gelais, General Manager - Ashini Consultants
Mike Godawa, Director of Engineering Services - Canada East, Integral Group
Engineers play an important role in the built environment and the advancement of architecture. The RAIC 2022 Virtual Conference on Architecture offers the engineering community access to over 36 continuing education sessions on topics ranging from the reduction of embodied carbon to urban design and intensification.
Register to reserve your spot today.