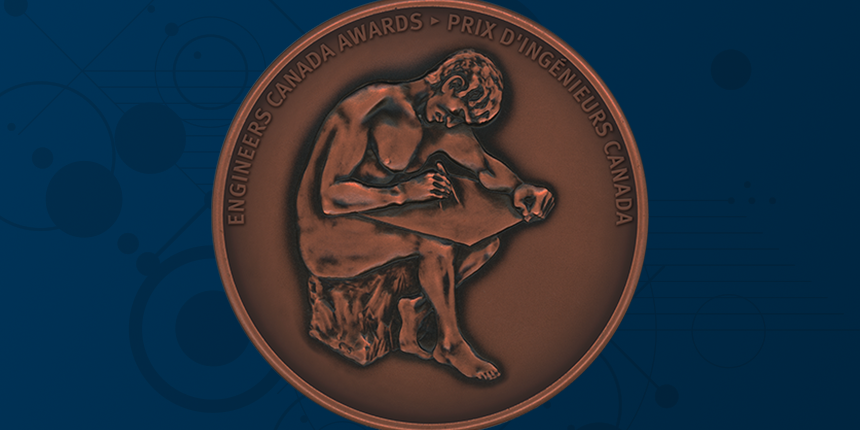 Engineers across Canada and in our local communities are credited for some of the world's most imperative innovations, technologies, and research. The Engineers Canada Awards program celebrates the exemplary work and contributions of engineers and engineering students in the profession. Nominations for the 2024 awards cycle is now open.
Engineers Canada invites engineers and engineering students from all career stages, disciplines, and parts of Canada to nominate an individual or self-nominate to be honoured for helping to improve Canada and our world. There are currently six awards distributed annually in the following categories:
Gold Medal Award for exceptional individual achievement and distinction in a field of engineering.
Meritorious Service Award for Professional Service for outstanding contribution to the Canadian engineering profession through a professional, consulting, or technical engineering association or society in Canada.
Meritorious Service Award for Community Service for exemplary voluntary contribution to community-based or humanitarian endeavours that demonstrate the commitment of engineers to improving their communities.
Medal for Distinction in Engineering Education for exemplary contribution to the education and development of engineering students and to engineering education in Canada.
Award for the Support of Women in the Engineering Profession for exceptional achievements in advancing the recruitment, retention, and professional development of women in engineering.
Gold Medal Student Award for outstanding leadership, contributions to society, and volunteerism by an undergraduate engineering student.
See what recipients from previous years have to say about winning an Engineers Canada Award:
Janusz Kozinski 
Gold Medal Award, 2023
"The Gold Medal award from Engineers Canada has truly been one of the highlights of my academic and professional life. To be recognized with this prestigious accolade from my peers – and to join the esteemed company of Canadians who have received it before me – is quite simply the pinnacle of my career as an educator, a researcher and an engineer."
Stephanie Quon 
Gold Medal Student Award, 2022
"Receiving the Engineers Canada Gold Medal Student Award has given me a platform for advocacy and the opportunity to connect more with people in the engineering community and interested in engineering. It has been an honour getting to share my experiences and encourage others to explore engineering! Personally, receiving the award has given me the confidence that I am on the right path and that I am capable of pursuing what I am passionate about."
Matthew Tutty
Gold Medal Student Award, 2021
"Receiving the Engineers Canada Gold Medal Student Award was such an honour at the start of my career because it serves as a testament to my passion for community building and pursuing change in causes I believe in, as well as Engineers Canada's commitment to young people aspiring to become a Professional Engineer. Receiving this award from Engineers Canada early in my professional journey encourages me on my trajectory of collaborating with peers to drive positive change."
"The Canadian engineering profession has a fantastic history of excellence and it is humbling to be recognized with the fellow peers and leaders, students and Professional Engineers, who are wonderful aspirations for my future career."
Nominations are open until January 12, 2024.