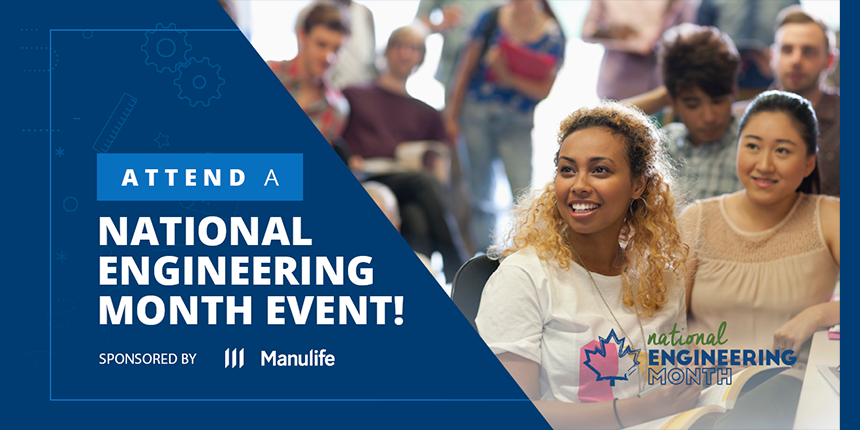 Engineers Canada kicked off the country's largest celebration of engineering on March 1 with a virtual discussion about the cultural shift happening in engineering. 
"Reflecting Back and Looking Forward: Engineering Culture and the Future of the Profession" brought together leaders from the engineering community.
Moderated by Adrian Harewood, award-winning former CBC TV and radio journalist and now an Associate Professor at Carleton University, the panellists included:
John Gamble, P.Eng., CEO and President, Association of Consulting Engineering Companies – Canada
Randy Herrmann, FCAE, FEC, P.Eng., Director of the Engineering Access Program (ENGAP), University of Manitoba 
Griffin Murdoch, President, Canadian Federation of Engineering Students (CFES)
Jeanette Southwood, FCAE, FEC, LL.D. (honoris causa), P.Eng., Vice President, Corporate Affairs and Strategic Partnerships, Engineers Canada
Kari Zacharias, PhD, EIT, Assistant Professor, Centre for Engineering Professional Practice and Engineering Education, University of Manitoba and Co-facilitator, Retool the Ring
In a wide-ranging discussion about engineering culture, the panellists addressed important topics facing the engineering community, including the calls for changes to make the Iron Ring Ceremony more inclusive and welcoming, efforts to diversify and attract more women to the profession, the impact that engineering projects have on the environment and the role of engineers in sustainability and environmental justice, and decolonizing engineering and engineering education.
Engineers Canada's panel discussion served as the national kick-off to National Engineering Month, which sees dozens of events take place across the country both virtually and in person. Many events build on the topics discussed during this panel discussion and are a forum for engineering students, engineers-in-training (EITs), and early-career engineers to have conversations about their profession and the role that engineers play in society. These events empower and inspire them to consider important questions as they embark on their engineering careers: what is our role, as engineers, in society? What will my impact be as an engineer? How can we use engineering to contribute solutions to today's biggest challenges? What do we want our profession to look like?
Find events happening near you in the national event calendar.
National Engineering Month also sees events take place that introduce children and youth to the exciting world of engineering and demonstrate how rewarding an engineering career can be. From pasta bridge building competitions to Lego challenges, these events encourage children and youth to explore engineering.
To find events, visit the national event calendar. 
Engineers Canada's national kick-off event, as well as National Engineering Month 2023, is sponsored by Manulife.