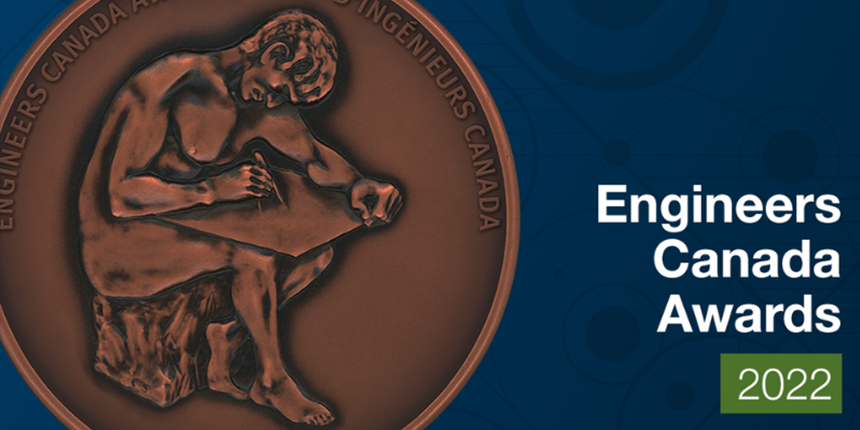 The 2022 Awards show has wrapped up, but our online celebration of this year's recipients has just begun! Check out the recipient interviews below:  
Digvir Jayas is recognized around the world for his contributions to science and engineering. His work to find better ways to dry and store grain has made a huge difference in the lives of countless farmers and others who rely on high quality, unspoiled grains to both earn a living and eat healthy, nutritious food. Read more. 
For 24 years, including seven on the Professional Engineers of Ontario Council where he served a term as president, Bob Dony has provided exceptional leadership to the engineering profession. As president, Dony oversaw several important achievements and endorsed Engineers Canada's 30 by 30 initiative. Read more. 
Sandra Odendahl is using her engineering background to try and make the world a better place. She has made exceptional contributions to non-profit organizations that focus on a cleaner environment, social justice, education and the arts. She presently serves as a director on the board of the Canadian Climate Institute, The Transition Accelerator and NEXT Canada. She was previously an active board member with the Ontario Clean Water Agency and chaired the board of the Toronto Atmospheric Fund from 2016-2019. Read more. 
Sanjeev Bedi, who teaches at the University of Waterloo, is the founding director of the IDEA's clinic and established the NSERC Chair in Immersive Design. Today, the IDEA's clinic regularly hosts Design Days for all 14 engineering programs at Waterloo which gives 2,000 students real world opportunities each year. Read more. 
Encouraging more women to become engineers is not without its challenges, but Eve Langelier is tacking this challenge head-on by making recruitment, retention, and advancement of women in engineering and science a top priority. Read more. 
Stephanie Quon may only be going into 4th year electrical engineering at the University of British Columbia, but her list of accomplishments is already long and varied. Quon is involved in the student community through both Women in Engineering UBC and the UBC Engineering Society. She is also very active in her community outside of academics. Read more. 
Check out the Awards social media campaign happening on our social media platforms this month! Twitter, Facebook, LinkedIn, YouTube.