Sign up today
Reach your financial goals faster
Engineers, geoscientists, students and their families have exclusive access to the program.
Why choose this program?
Lower fees can help your money grow faster and last longer in retirement.
Access to WayfinderTM - a new retirement planning experience that helps you make smart money decisions.
Extensive investment choices through group RRSP, non-registered savings plan, TFSA and retirement income products.
Free personal investment guidance and support.
Program has been well-established for almost 40 years.
Change your asset mix anytime without penalty.
Enhanced interest rates on guaranteed investment accounts.
No transfer or administration fees.
No minimum contribution required.
Lower fees = more money for your future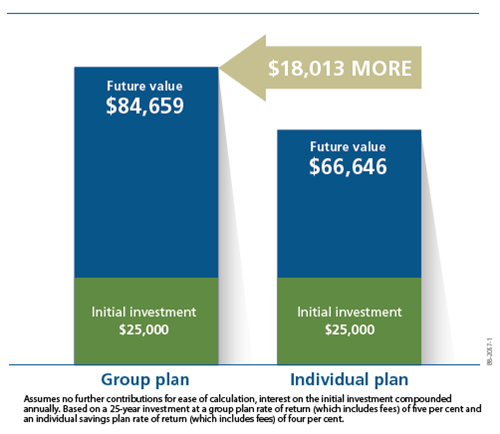 Compare for yourself to see the difference lower fees could make on your retirement savings and income.
My group advantage calculator (requires Flash)
Joining is quick and easy
It only takes about 15 minutes. Learn more
How do I sign up?

  Great-West Life 1-800-724-3402


  Financial security program website
News and Tips!
The Great-West Life Assurance Company, key design and marks displayed followed by the TM symbol at first-time of use are trademarks of The Great-West Life Assurance Company (Great-West Life), used under licence by London Life Insurance Company (London Life) for the promotion and marketing of insurance products. London Life is a subsidiary of Great-West Life. Group retirement and savings products described herein are issued by London Life.