Get more from your savings and group retirement plan
Whether you're already an engineer, geoscientist, or a student, you and your family have exclusive access to the Engineers Canada-sponsored Financial Security Program.
You can join in as little as 15 minutes with Enrolment express. Learn more
There's also good news regarding the lower than typical retail investment management fees (IMFs) you get. 
This means more of your contributions go to your savings, giving them a chance to grow faster.
These may seem like small numbers, but over time, these changes could mean
more savings for you in the future. 
Lower fees can make a big difference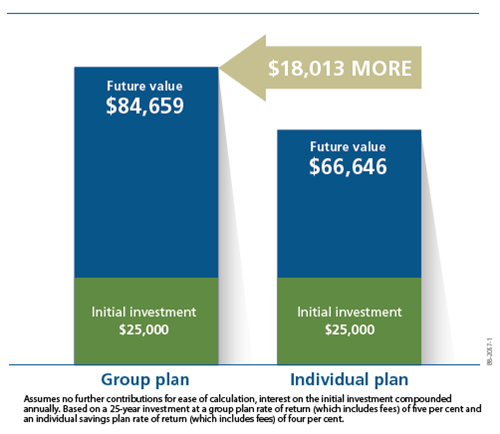 Why choose this program?
Program has been well-established for almost 40 years.
In today's markets, making educated financial decisions and following a written financial plan have never been more important.
Achieve your retirement and savings goals sooner.
Lower investment management fees.
Change your asset mix anytime without penalty.
Extensive investment choices.
Post-retirement solutions (RIF, LIF, LRIF, annuities).
Enhanced interest rates on guaranteed investment accounts.
You'll have no transfer or administration fees.
You'll have no minimum contribution.
You'll receive free, personalized assistance from a dedicated investment and retirement specialist.
You'll receive personalized quarterly statements.
Your spouse and children over 16 can participate in this program.
Program details
The program offers a variety of products:
Group NRSP (non-registered savings plan)
Group RRSP (registered retirement savings plan)
Group TFSA (tax-free savings account)
Retirement Income products - RIF (registered retirement income fund) and LIF (life income fund)
How does the Engineers Canada program stack up
?
Download the app to see the difference lower fees could make on your retirement savings and income.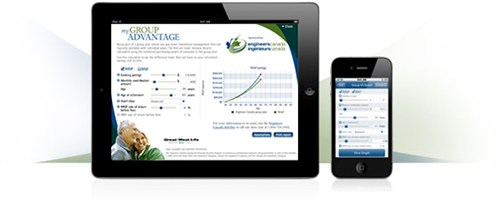 ---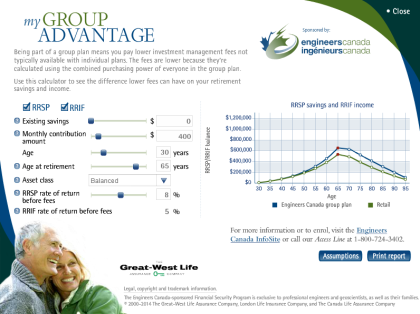 This tool helps you compare your Engineers Canada group investment management fees to average individual retail fees, so you can see how lower fees make a difference.
---
My One Percent Advantage Calculator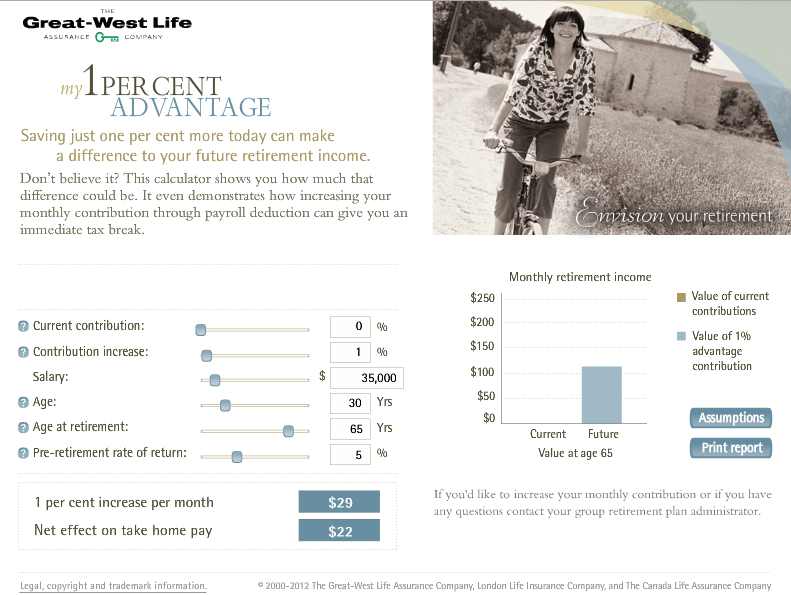 This tool helps you see how saving a little more in your group retirement and savings plan can increase your future income.
Free Personal Investment Guidance
Whether you're just starting to save, retiring or somewhere in between, Angela will guide you along the way with personalized service and support. Meet Angela Harvey, or send her an email.
How do I sign up?

  Great West Life Client Services: 1-800-724-3402


  Great West Life Website
News and Tips!